Pearl Farm Beach Resort Davao, Philippines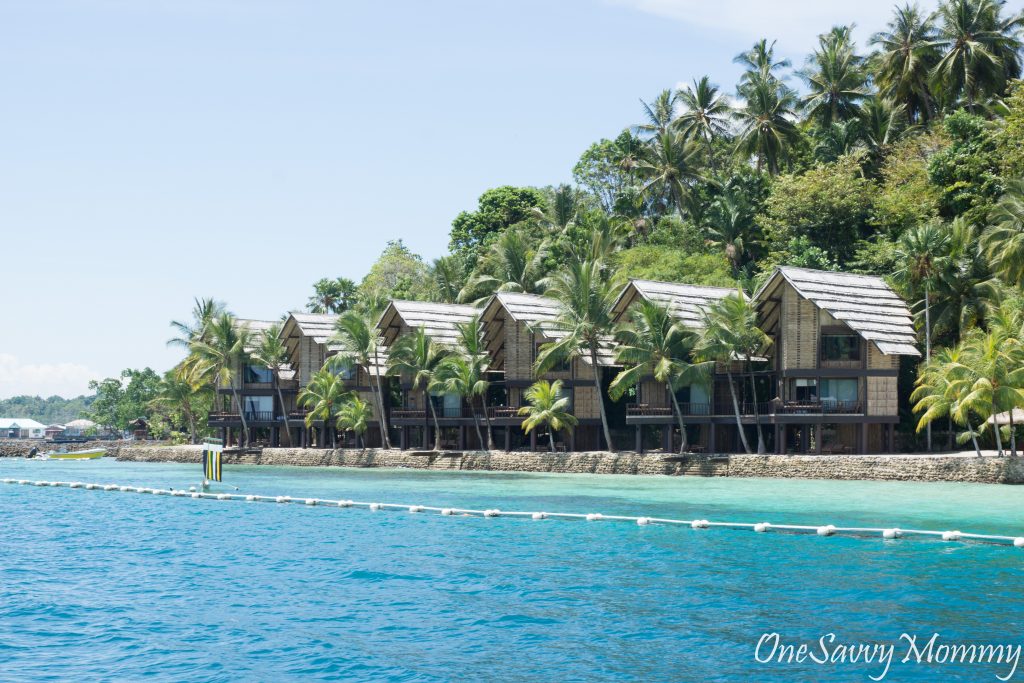 Looking for a beach paradise  with kids for that weekend getaway?  Pearl Farm Beach Resort Davao is located in a beautiful and tranquil island surrounded by coconut palms, mangroves and rock formations. They also offer over water villa accommodation with stunning ocean views.
As soon as we arrived in the resort, we were welcomed by a song and drinks by the resort staff. It was perfect to start the vacation.
We arrived noon time, earlier than check-in time. We headed for lunch first as we were feeling hungry and the room wasn't ready anyway. They only have 1 restaurant in the whole resort, mainly serving local and Western food. They also have salad and fruits buffet.
As soon as we are done with the food, we are excited to get our keys to the room. You can get the hotel staff to use their buggy to bring you to the room if the sun is too hot and warm.
We booked 2 rooms of Samal house (overwater villa with a ocean view) for 4 adults and 2 kids under 5. Each room can accommodate 2 adults. They allowed our 2 children under 5 to stay with us in a room. Another option for us would be to book a Samal suite but we thought it is better to have a separate room as they kids could be noisy.
Separate bath and toilet.
2 separate wash basins. Only 1 in photo below.
Complimentary kettle, cups and coffee.
Views from our room. We had Samal house #5 and #6. It is close to the restaurant so it is not too far for the kids. At the same time it is also far enough to have a nice view.
They have 2 pools inside the resort. One infinity pool near to the main restaurant. This is the first pool you will see when you arrive at the resort.
There is also another pool at the back of the resort near the mandaya houses/villas. There is divider for kids and adult. Plus small kids pool at the back.
The resort also have a good stretch of white beach for the kids to play. Also there are some fishes that you can see as you walk a few steps from the beach. They don't have kids club in case you are looking for one.
They offer buffet breakfast in the same restaurant. Buffet lunch and dinner if staying on weekend. The meal I enjoyed most is the seafood buffet dinner on our last night. They served tuna, prawns and crabs. They also had skewered chicken, beef and squid.
To give you an idea of their ala-carte menu and prices.
You can read your favorite book on of these cozy furniture. It is next to the restaurant so you can order your favorite drink as well!
There is a small corner selling local made jewelries.
If you have extra time, you can cross to the opposite island where the malipano villas are. They have a small beach to offer as well. Scheduled boats (free of charge) between the 2 islands.
Other useful information:
Pearl Farm Beach Resort Davao
Bo. Adecor, Kaputian District,
Island Garden City of Samal
8119, Philippines
Visit their website here.
Regular boat transfers:
Davao Marina to Resort – 10:00 AM and 2:00 PM
Resort to Davao Marina – 8:30 AM and 1:00 PM
Special boat transfers can be arranged with applicable charges. Guests are highly encouraged to reserve seats on their preferred boat trip and are advised to be at the Pearl Farm Marina 30 minutes before the departure of the boat.
Pearl Farm Beach Resort Davao Marina has their own café and pool side to chill out. So do arrive early!
Thanks for reading!
If you have any questions, please feel free to leave a comment!
---
---