Fun day with kids at Legoland Malaysia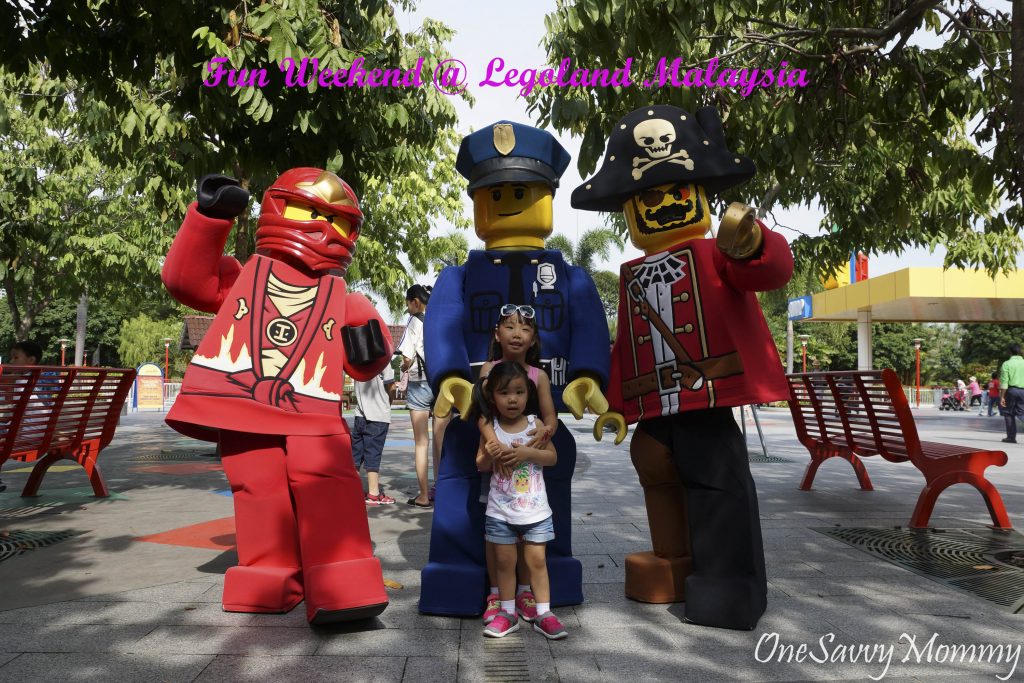 We have never visited Legoland Malaysia since it opened 6 years ago. I felt that Legoland is more appropriate for boys than girls. And the park being an open park  could be tricky. We need to find the "perfect time" to visit – not a rainy day definitely but not too sunny too! As the youngest birthday is coming, we decided to take our chance and visit. We are very happy to report that we had a very fun day with kids at Legoland Malaysia! Check out the fun photos of our trip below.
How to get there?
Legoland Malaysia  is located at Johor Malaysia and is very near to Hello Kitty Town and Thomas Town. There are many options to get to Johor from Singapore. Check out my previous post on Hello Kitty Town and Thomas Town to find out more.
When to go?
I have heard good feedbacks for travel to Legoland around January, February, November to December. These months are cooler. January is a good month to go as school just started for Singapore and Malaysia. Legoland is an open theme park, just like Disneyland. There are some airconditioned areas but limited. I would think heat is more manageable than rain. If you are coming to visit Legoland from elsewhere (not Singapore and/or Malaysia) and need to plan ahead, just book and go. Weather is unpredictable these days and you might just be in luck.
Where to stay?
If you have budget, the best place to stay is Legoland hotel! They have themed rooms and one of themes is for Ninjago fans! If you are looking for other hotel options, I would suggest to stay at Hotel Jen Puteri Harbour. The have shuttle to and from Legoland. You won't go wrong with Hotel Jen as it is part of Shangri-la group of hotels. It is also a good option if you plan to visit other areas of Johor Bahru after. Afiniti Legoland Service Apartments is a popular option and my first choice. It is ideal for families as they have 2 bedroom options too. Price starts from $SG 70 per night. It is popular so booking ahead is recommended. We weren't able to book this place so we settled for Airbnb. There are 2 condominiums that are walking distance to Legoland which I have considered -Afiniti Residences Medini and Somerset Medini. These 2 apartments are next to Afiniti Legoland Service Apartments and just opposite Medini Mall. Medini Mall is right next to Legoland Malaysia so it is very convenient.
Below are some photos of Legoland Hotel. Definitely lots of lego to keep the kids busy. They also have some scheduled activity and shows to keep the family and kids entertained.
TIP: Please consider booking a place that offers WIFI and TV cable. It helps to keep the kids entertained after a long day in Legoland.
Where to eat?
There are limited food options in Medini Mall. Secret Recipe is an 'ok' option for some Western pasta and cakes. We also had Thai food at Absolute Thai on one of the nights the kids wanted to eat rice. It was surprisingly good and worth the money. For fast food, they have Burger King. The Chinese food place is also popular among Legoland guests as it is always packed. There are 2 or 3 convenience stores in the mall that sells snacks and packet drinks. You might want to consider having a buffet night at Legoland hotel. It is not cheap but a good choice if you are running out of options.
Exploring Legoland Malaysia Theme Park
Legoland Malaysia Theme Park opens at 10am and closes at 6pm on off peak periods and 7pm on peak periods (i.e Saturday or public holidays). We were right by the gate before 10am as the kids woke up early and excited to start their day. In my opinion, 10am is a bit too late and the sun was shining brightly. There was not much wind either when we were queuing. If you like to avoid the crowd and the queue, do come 5-10 mins after the park opens. This is going to be my plan for our next visit.
TIP: If you are also going to visit Legoland Water Park as well during your holiday, I would suggest you go Legoland Water Park first if the weather is sunny on the day of your visit. The park also reminds guests to do so while we were queuing for the entrance for the Legoland Theme Park. However, I know it is not easy to just switch from visiting the theme park to water park especially for family with kids. Do plan ahead!
LEGO CITY
Our first stop was at Lego City. It is the first place you will see when you turn right after entrance. Looking back, I think we had most of our rides here at this area! The queues for the rides were not crowded right when we were here. About 10am-12noon.
Junior Driving School
Kids from 3-5 years old get to ride on this small circular track. It was a lots of fun for my 3 year old. She was lucky to have the most efficient Lego car. Kids can get their 'official' license after the ride. For free license, it is just normal paper. For a fee, one can opt to get a proper license printed for souvenir.
Boating School
My kids also had fun operating the  Lego themed boats! It is generally safe for young children as the water level is shallow. My 3 year old enjoyed being in control of the boat.
Lego City Airport
If there is Lego Car and Lego Boat, there is also the Lego Plane. It is similar ride to Disneyland's Dumbo Ride and Universal Studios Singapore Dino Soarin. The plane goes round for a few mins and the riders can put their plane up and down.
Rescue Academy
As an adult, this is the most interesting ride so far. Adults and kids need to team up to operate their fire truck so they can put out the 'fire'. It can be bit tiring if you take this ride in the middle of the day and your kids are small (no energy to pump the ride which leave the adults doing most of the work). It is filled with sound effects for the needed adrenaline rush. I highly recommend this ride!
Lego City Stage
Right across Rescue Academy is the Lego City Stage. They have a 'live Ninjago show'. It is fully air-conditioned stage so we got to relax and rest for a while. Do check out the show timings to plan ahead. We were here around 1130am-12nn. I enjoyed the show and my girls loved the show!
PS: I don't have photos to show for this as it is dark inside the stage.
Driving School
There is also another driving school for kids aged 6 -13 year olds. We stopped by this place in the afternoon right before we go home. I think my eldest had more fun here than the junior driving school. My eldest was 5 and turning 6 in a few months and is about 110cm. She was 'accepted' to ride the Lego car with no questions.
Legoland Express
This ride takes you to journey through the main attractions in Legoland theme park. It is very similar to Disneyland Park Railroad ride. Somehow, we missed this ride but it looks fun.
Market Restaurant
We had our lunch here and food is generally good. We had roasted chicken, pizza and pasta. They have some value meals in offer so no need to worry where to eat inside Legoland Malaysia!
LAND OF ADVENTURE
After lunch, we headed next to Land of Adventure.
Beetle Bounce
Beetle Bounce is sort of free fall kind of ride but for kids. It was very slow and not scary. My 3 year old did not enjoy it as she complained the kids beside her 'were shouting loud'. However, my eldest rode for 3 rounds. She was brave and mommy wasn't so she had to brag by riding more. 😉
Lost Kingdom Adventure
This ride is quite fun. Rider will try to laser hunt inside Egypt themed cave. It is similar to Disneyland's Buzz Lightyear Astro Blast.
Dino Island
We skipped this one as we do not want to get wet. It is a log ride with lots of splashes.
IMAGINATION
Next to Land of Adventure is IMAGINATION.
Build and Test
We spent over 90 minutes in this huge room Build and Test. There are lots of lego pieces where kids can build their vehicle and compete with other kids. I did not expect my 2 girls to have so much fun in this area that they did not want to leave!
There are some other interesting things to do here aside from Build and Test. These are the Duplo Express, Duplo Playtown, Kids Power Tower and Lego Studios. Lego Studios plays 4D movies. We did not go in as we felt that time was running out and we needed to explore the rest of Legoland before it closes! It was around 2pm when we left Build and Test.
LEGO NINJAGO WORLD
Our next stop was the world of Lego Ninjago. The girls had no idea what are Ninjagos when we visited but they happily agreed to take photos with them.
There is only major ride to do in this place which is Lego Ninjago The Ride. Not sure how we missed this interesting 4D ride!!! It is a 4D ride where riders get to kill the bad guys. We will definitely come back to try this.
LEGO KINGDOMS
We arrived at Lego Kingdom. There are some thrilling rides here for the brave hearts.
Merlin's Challenge
My 3 year old can not ride this one. She wasn't happy. It is a spinning ride and speed is quite fast. Not the usual spinning cups. I'm glad my 3 year old did not meet the height requirement, otherwise she will be crying during this ride. So yeah, age and height requirement for rides do make sense for most of the times!
Royal Joust
Another ride that 3 year old can't ride. By this time, she was grumpy and crying. The ride is quite bumpy and deemed unsafe for kids below 4. One has to be 92 CM to try.
There are 2 roller coaster rides that we skip – The Dragon and Dragon's Apprentice. Maybe in our next trip my girls can give it a try. As for me, I'm giving it a pass (not for faint hearted 😉 ).
LEGO TECHNIC
Lego Academy
It is air-conditioned rooms for lego building fun and workshops. We needed a break from all the walking, hence decided to spend half an hour here. If you got tons of lego at home, this place probably ain't nothing special.
Lego Mindstorms
This place is for learning how to build lego robot! The workshops are mostly for kids above 6 yo. When we reached there, all classes were full. I would suggest for parents to go straight to this area when park opens to book a slot.
The Great Lego Race
It is a virtual reality roller coaster. It is a real roller coaster where riders get to wear glasses to "enjoy" the 4D ride. 120cm minimum height requirement for this ride!
Lego Star Wars Miniland
For Star Wars fans, do not forget to visit the giant Star Wars exhibit.
MINILAND
Over 30 million Lego bricks where used to showcase 17 Asian countries unique landmarks.
Here are some of my favorite shots.
Other Relevant Info:
Legoland Malaysia Theme Parks opens from 10am to 6pm. Sometimes on Saturdays, they extend to 7pm (depending on season). Here is a map from Legoland Malaysia website.
Thank you for reading our trip to Legoland Malaysia! We hope to visit the Legoland Malaysia Water Park in our next visit.
---
---