[Review] NorthStar Gymnastics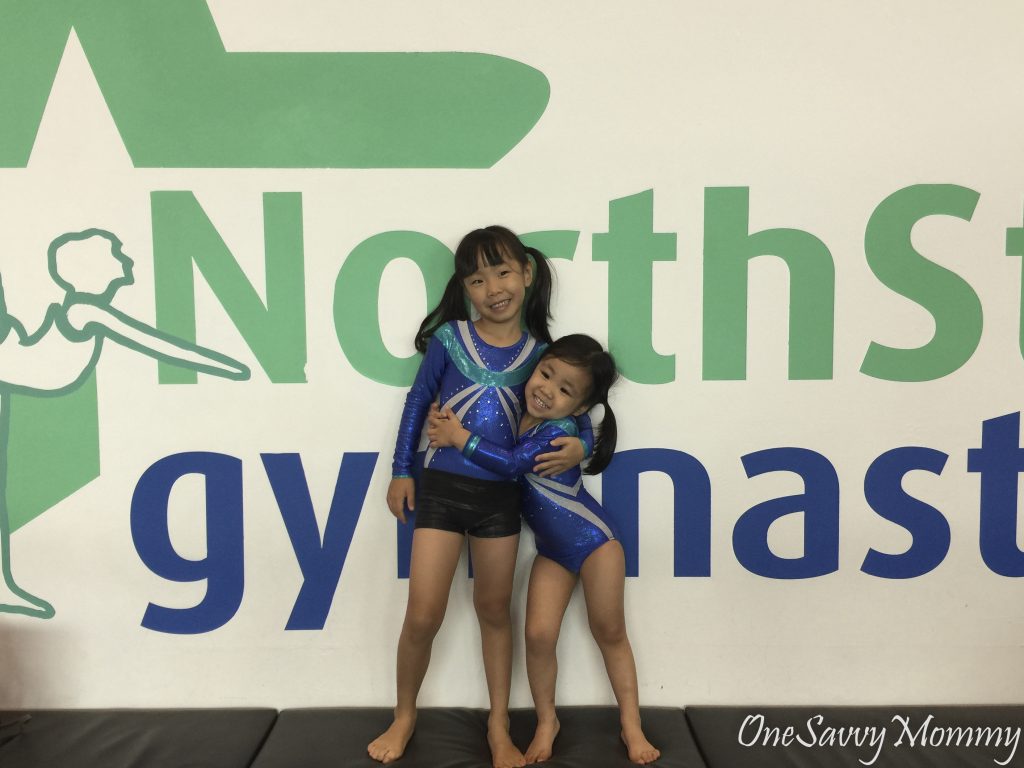 It's been more than a year since my eldest started her first gymnastics lesson at NorthStar Gymnastics. She needed an outlet to burn her energy and a close friend recommended us to try it out. And so we did! It started very well as she thought it was all 'pure fun' with the trampoline and monkey bar. Then after a few lessons, she started complaining and disliking the warm ups as it required doing splits. She hated it as she can't do it well compared to some of her classmates. I encouraged her to just try and do her best in each lesson.
After hitting a year with the gym, I decided to 'end' her gymnastics lessons. It was November 2018 and just before local school holidays. I was thinking maybe gymnastics wasn't really for her as she still wasn't able to do a proper cartwheel. I was going to just let her try out a new sport after New Year. However, to my surprise, she asked me to sign her up again for Gymnastics last month (Jan 2019) and that she missed her lessons terribly. I obliged. In my mind, I will let her continue until she can do a proper cartwheel. At least she will 'achieve' something out of the lessons, rather than just closing it abruptly.
After a couple of lessons after the New Year, alas, she was able to do a nice upright cartwheel! I wasn't expecting it to happen so quickly. She was ecstatic. I was very happy for her. I encouraged her to perfect her cartwheel in the few remaining lessons for the term and we will stop going to the gym altogether. After all, she has already achieved our 'goal'. She said, 'No mommy. I want to continue my lessons. Afterwards, I want to join competition and win a trophy!" Wow, her dream is bigger than mine. This cartwheel achievement is but a milestone towards her pursuit of bigger things to come.
More updates on her progress after few months in a new blog post. In the meantime, check out the 6 things I like about NorthStar Gymnastics below!
6 things I like about NorthStar Gymnastics
Coach Jon is the co-owner and a coach of NorthStar Gymnastics. I like his passion and dedication to Gymnastics as a sport. Depends on timing and level, he also coaches the non competitive gymnasts.
Most if not all of the coaches in NorthStar Gymnastics are gymnasts themselves. Yes the coaches can do the cartwheels and flips (or at least they used to be able to do it!). So the gym do not just employ theory based coaches/teachers.
The gym is bright and well conducive for the sport. It is located in the 3rd floor of Singpost Centre that has full length glass windows which allows  natural light to come in.   It is also fully air-conditioned but I never once felt too hot nor too cold.
Fees are reasonable. Normally I would pay by a term of 10 lessons. The 10 lessons are good for 3 months. They also provide packages for competitive gymnasts who need to come more often and for longer hours. They also provide 5% discount off for siblings. If a term fee is SG$400, then the first child pays SG$400, his/her sibling pays SG$380.
The admin and management are flexible. You need to commit to a fixed date and timing for your child to attend. However, if your child won't be able to attend that week, a make up lesson can be arranged. And there is no restriction as to how many times you can do make up lessons per term.
Last but not the least, I like the multinational environment. The kids are mixed of locals and expats. I like my kids getting exposed to different nationalities and the gym provides that for free!
Photos above are my youngest who just turned 3 then attempting a hand stand. They accept 3 year olds and above!
---
---