Rawa Island: Secret Getaway Paradise 3 hours from Singapore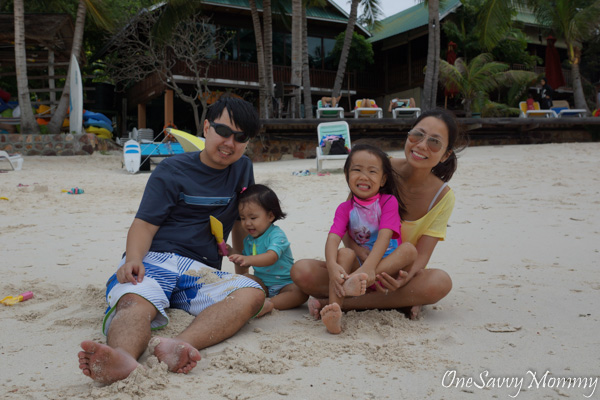 Looking for a white sand beach with turquoise blue waters for that special long weekend? Too tired of flying with the kids? Rawa Island would be a perfect choice!
How to Get There?
Rawa Island (or Pulau Rawa) is located in Mersing District, Johor, Malaysia. Mersing is about 3 hours away from Singapore by car. And from Mersing, there is a 30 minute speedboat ride to get to the island.
Ideal time to leave Singapore for Mersing would be around 6am in the morning to account for time to cross the border to Malaysia plus the 160km land travel. Boat timings would be confirmed a few days before the travel date as it is based on tide schedule. For us it was 11am boat ride from Mersing Jetty to the resort. Boat transfers cost were included in the room reservation payment.
For the transportation to Mersing, I would suggest to hire a car. Since we were travelling with another family, we chose the option of renting a mini bus through the resort. It is much cheaper than renting 2 separate cars. The size of the mini bus is perfect for 6 adults and 4 young kids.
Cost of 10 seater mini-bus – 200$ each way. Additional pick up/drop off is 10$. No surcharge even for peak periods like CNY.
Cost of 4 seater taxi – 160$ each way. There is 30$ surcharge for peak periods like CNY.
Also, since we were hiring through the resort, the reservation staff in Mersing  Jetty were there to assist us. They helped with timing arrangement to and from Mersing. The mini bus to Mersing was good, clean and comfortable. However, we encountered a slight problem going back to Singapore. The bus that was going to take us back to Singapore was old and dirty, and worst, air conditioner is not working!!! It was noon time. I don't think we could last for 3.5 hours on the road in that bus. We would probably be roasted alive before we get to Singapore!!
The bus driver of the old dirty bus did not know how to speak English which made the situation worse. We reached out to the resort staff to ask for their help. They were able to call the bus company and a replacement bus came in less than 20 minutes! The new driver speaks good English and he took us back to Singapore safely.
Where to Stay?
There are 2 resorts in Rawa Island. Rawa Island Resort and Alang's Rawa. For families, Rawa Island Resort is recommended. Alang's Rawa has strict adult policy on weekends plus their rooms do not have ACs.
Rawa Island Resort occupies bigger part of the island.  They only offer full board accommodation (Includes 3 buffet meals – breakfast, lunch and dinner). Kids (4-12) cost a fracti on of the adult price (depending on room type). 3 and below are free!
We booked their Frangipani Double Bedroom B. It has 2 huge rooms with a big living room and veranda. The size is perfect. Each room has 2 queen size beds and private toilet/shower area outside. It is very spacious and good if staying with kids.
There is a small beach near the Frangipani villas as well.
If given a chance to go back, I would likely book a beachfront chalet in our next visit. They are near to the main beach, activities and restaurant. Those rooms are very popular and are quickly snapped up.
How Long to Stay?
We booked 2 nights with the resort. 3 night is probably good too. I won't recommended a longer stay as there is only 1 main restaurant and you will probably get tired of the food by Day 3. If you have more time (and budget), I would suggest to look for other resorts in nearby islands in Mersing (Batu-Batu, Sibu). So perhaps 2 nights in Rawa and 2 nights in Sibu would be a good itinerary since they are all near Mersing.
When to Go?
We travelled during CNY period (late January). Weather is generally good. There were some brief showers that lasted 15 minutes. Breeze is nice and cool. Water from the sea is good too. Although the resort is fully packed during CNY, it wasn't crowded. Albeit perhaps during meal times.
It was our family's first time taking a speedboat. It was scary at first as the waves are rough. The kids were braver than me though. I did not hear them shout nor cry. The ride going back to Mersing was definitely better. I think it all depends on the tide and weather. Better check with the resort if you want to travel in calmer waters.
What to Bring?
Apart from the usual stuff that you need to bring for resort destination travel (swimwear, sand toys, sunblock, hats, mosquitio repellant), I suggest that you bring your own travel kettle and hair dryer. The resort do not provide them. It helps you make hot teas/coffees for the adults during your stay. And of course milk for the kids.
There is no TV in the rooms. So bring your laptop/gadgets to watch your favorite shows.
Note that WIFI is only available at their restaurant and bar area. It is good time to just chill and take it easy. Forget about internet and phones for a while.
What to Do?
For family with older kids, snorkeling and kayak are good choices. They also have scuba diving centre in the island. Visit Orca Scuba site for more info. You can see in the photo below a huge slide. That is from Orca Scuba.
Our kids (4 and under) enjoyed playing sand at the beach. It is also nice to take a dip at the warm sea water. Bring a good book and order your favorite cocktail by the beach.
It was so nice to just relax and forget the daily grind.
The place is very quiet and peaceful. I dozed off before I knew it.
We also explored some area near our villas. Fantastic views for some photo taking!
What and Where to Eat?
Rawa Island Resort only offers full board accommodation. You don't have to worry about getting hungry. 3 buffet meals are provided daily. They served western food. Taste and quality were up to standard (4 star hotel standard). Not luxurious but definitely worth the money. (Better than what we had in Maldives!)

Ala carte snacks and drinks are also available through out the day! You can also bring in your own snacks (chips, ramen bowl, fruit juice packs, etc) but not alcoholic drinks. Best to check with reservation desk for their latest policy.
Other Useful Information:
Rawa Island Resort
Office address: Rawa Island Resort Sdn Bhd, Tourist Centre, Mersing 86800, Johor, Malaysia
Telephone:  +607 799 1204 / +607 799 1205
Email: [email protected]
Website: http://www.rawaislandresort.com/
---
---