Preschooler Learn How to Read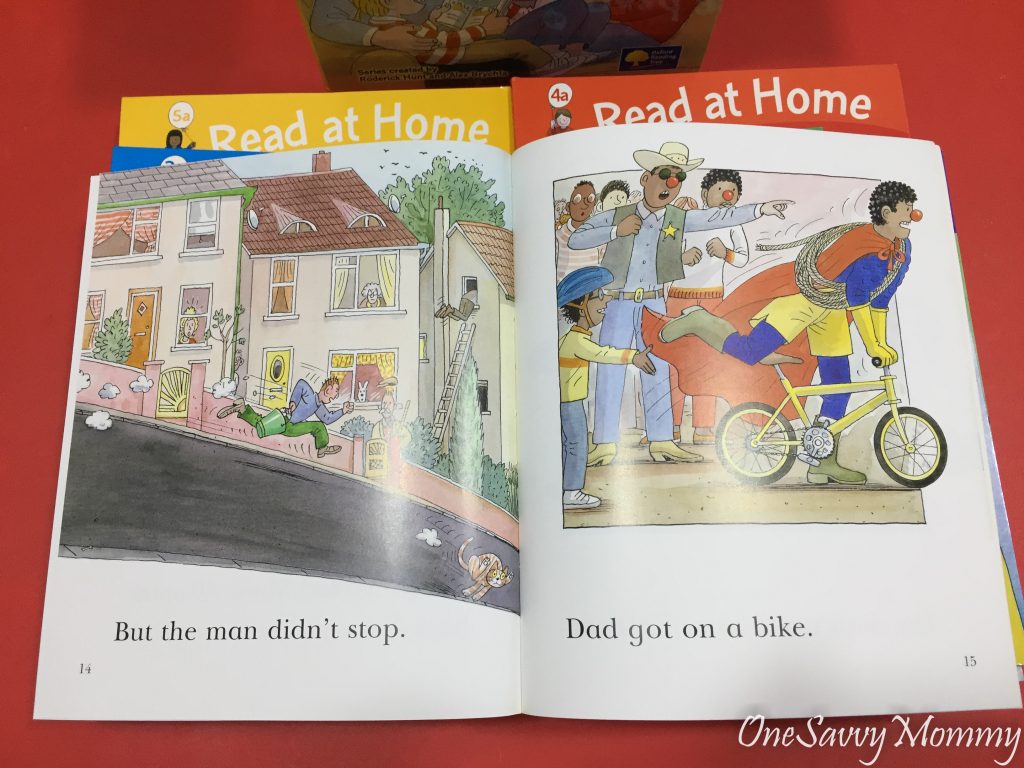 As a mom, I constantly worry if I'm doing 'enough' for my kids. It is very hard NOT to be a kiasu parent these days. When I heard that K1 kids are expected to know how to read, I panicked. My eldest was going to be in K1 in 3 months and she couldn't even read 2 letter words. After some help from Mr.Google, I used the following ways to help my preschooler learn how to read:
SIGHT WORDS

These are high frequency words that can be found mostly on textbooks.
I printed the words like flashcards and placed them on wall. I used Dolch sight words and you can find the word list from this link.
Children normally 'memorize' these words. They gain more confidence that they can read these words in the textbooks which help them focus on other words that are more complex.
Some parents follow the method of using 2-letter sight word and progress to 3-letter and so on.

PHONICS APPS and VIDEOS

There are many popular youtube channels that teaches phonics. I particularly like this song.
For apps, my daughter liked ABC Phonics and Super Phonics. Both by PinkFong.
 Some families do not like to expose their children to gadgets (TV, ipad, laptop,etc). In such cases, perhaps educational toys can help make learning more fun and interactive. I like interactive toys from VTECH and LEAPFROG.

READING TUITION CENTRE
I don't remember how I learn to read as a child. Thus, I do not have confidence of teaching phonics to my child even though I can speak fluent English.
I started looking for  a tuition centre near home to teach my child phonics. I chose I CAN READ.
Why I CAN READ?
a. GROUP CLASS – They conduct lesson in a group setting of 2-8. I believe a group class can make the lesson more fun and interesting.
b. ABILITY BASED LEVEL – The kids are put in the level based on their ability and not age. They conduct free assessments in all centres. You can call to book an appointment in advance.
c. ENGLISH NATIVE SPEAKING TEACHER –  The teacher assigned to the class has many years of experience of teaching in the centre. Her native language is also English.
d. REASONABLE FEES – The fees are on the high side but reasonable (~50$ for 1.5 hours lesson). Fees are paid by term (about 10 weeks). However in my mind, as soon as my daughter learn how to read, I will stop sending her to tuition. It is not like I have to send her yearly (as compared to learning Mandarin class).
e. CENTRE PROXIMITY – The centre has a direct bus stop from and to my place, so it is convenient.
f. Lastly (albeit the most important one), my eldest liked the centre and environment.
My daughter enjoyed her I CAN READ class. Although she did not like to do her homework. Yes, the centre gave out homework every after lesson that needed to be completed prior to next class. I don't necessarily like the idea of homework for 4 year olds but I believe the need of practice and continuous learning at home. Besides, I wanted to provide the support she needed so she can learn faster (which means less terms, less tuition fees $$).
I liked how the I CAN READ lessons are structured. They started with teaching the kids the phonics sounds of the letters. And once they mastered them, they moved to segmenting words (first sound, middle and last sound). After segmenting, the kids learned to do blending.
Alas after 2 terms, my daughter was promoted to Reading class (from pre-reading class). This meant that she was able (to attempt) to read unfamiliar words on her own. Milestone unlocked for mommy and daughter! She continued with the centre for one more term before I decided to pull her out. I think she has a good foundation to continue practice reading at home.
4. READING BOOKS at HOME
We read books with her every night as much as we can. Since she likes reading (and hates sleeping early at night), she will happily get books and read on her own. However, I still believe it is best to read books with your child as it will help them with understanding what they are reading. Reading vs Comprehension is different.
Now she is almost 5, she enjoys reading the Oxford Reading Tree series of 'Reading at Home'. If you do not want to buy, I'm sure the library near you carries kindergarten books that will help your child to enjoy reading.
The books have 5 levels. You can see from the photos below that there are more words as the child progresses to the next level. The stories are often funny so it helps make reading more fun and interesting. 
If your child do not like reading, encourage her.
1. Make reading time as special time with daddy and/or mommy. You will hit two birds with one stone. Not only is she learning how to read, she will also enjoy your family bonding time.
2. Perhaps you can also make some reward chart – 1 sticker every time she reads one book. Collecting 10 stickers could mean she can get a reward (favorite food, kinder surprise egg, shopkins, etc).
If you have any other tips on helping preschoolers learn how to read, please feel free to leave a comment!
---
---