Cough cough go away – Yu Guo TCM visit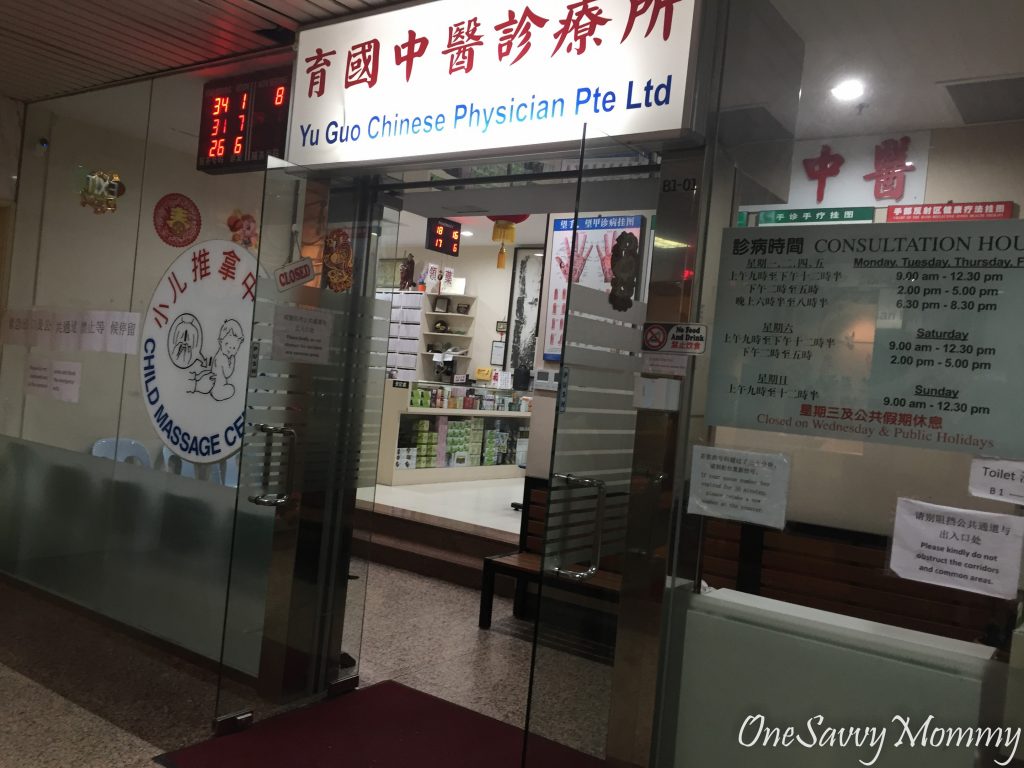 With the unpredictable weather these days, it is easy to get sick. My eldest was coughing for 3 weeks. It started as mild cough at night for the first 2 weeks. I wasn't alarmed as she coughs mostly at night (perhaps due to back drip coming from nose and or sensitive nose). Then it got really worse – the dreaded  dry barking cough. I knew I had to take her to see a doctor before she spreads this to the entire household. We decided to visit Yu Guo TCM Chinese Physician in Kembangan Plaza. I feel that Chinese medicine is more effective for cough.
YU GUO TCM CHINESE PHYSICIAN – KEMBANGAN PLAZA
We visited on a Friday night at 730pm. As expected there were a lot of patients. They are very popular both for adults and children. We hurriedly got a queue number and waited outside the clinic.
TIP: Bring some activity books/toys for your little one to keep them entertained while waiting. You might also want to bring packed food/snack. There is also nearby foodcourt next to Kembangan Plaza.
We waited approx 75 mins before our number was called. It is not that bad for Friday night. I expected worse. I know weekend queues are the worst.
The lady doctor checked her throat and of course it was burning red. We also informed her that we wanted to avail of the TUINA massage as well.
A massage therapist was immediately available after seeing the doctor. My 4 year old daughter initially hesitated to be massaged. I had to bribe her. For those bringing their babies (especially those 5 months old and up), you might want to come prepared on how to 'convince' your little ones to do the massage without crying. It will be heartbreaking (and I don't think that effective) if they fight, resist and cry.
YU GUO TCM – CHILD TUINA MASSAGE
The massage is about 30 minutes. Children are initially asked to sit on a massage bed. Massage started with the hands and fingers. This will go on for 15 mins or so. Then the last 15 minutes will be for tummy and back.
YU GUO TCM – CHINESE PHARMACY
After the massage, we waited for the medicine. We were given 6D supply – 1 200ml bottle, 1 pack of capsules and some individually packed brown powder. No idea what they are (bad mommy for not asking) but they smelled gross. I don't think it will be easy to feed these medicine to a child.
TIP: They won't normally prescribe medicines for babies. We visited previously due to colic and were given a binder and some herbal medicine to put inside the binder. The binder then would have to be worn daily after bath.
Total bill amounted to SG$80. This included the massage which cost SG$37. I think the price is average.
After a week, my daughter's cough has 90% subsided. I think the medicines were effective.
Since Yu Guo medicine ran out, we decided to make our own natural medicine using Oregano leaves to clear the cough. Please check my next blog post on how to do this.
OTHER USEFUL INFORMATION – YU GUO TCM CHINESE PHYSICIAN
How to get there? It is at B1 located at Kembangan Plaza, opposite Kembangan MRT.
Openings hours: Note that they are closed on Wednesdays and Public Holidays. You can not make appointments. And they do not provide home consultation/treatment.
Weekdays
上午 Morning 9.00am-12.30pm
下午 Afternoon2.00pm- 5.00pm
晚上 Evening 6.30pm- 8.30pm
星期六/Saturdays
上午 Morning 9.00am-12.30pm
下午 Afternoon 2.00pm- 5.00pm
星期日/Sundays
上午 Morning 9.00am-12.30pm
---
---