Exploring Davao Beach and Nature, Philippines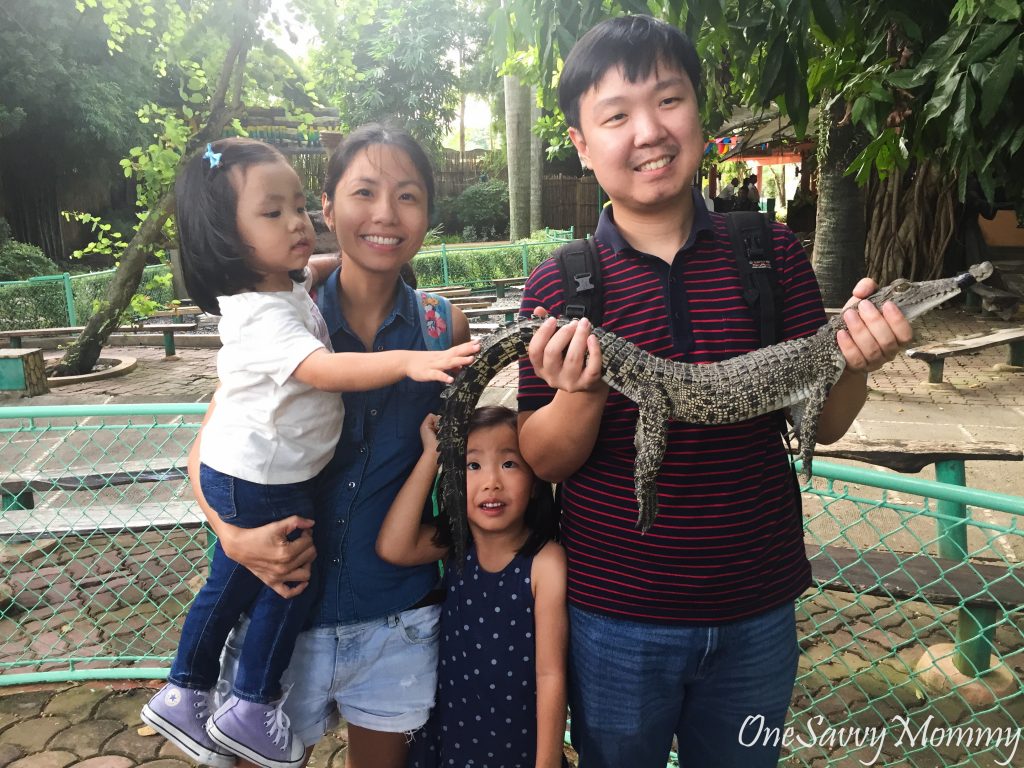 After President Rodrigo Duterte won the Philippines Presidential Election in 2016, I became curious to explore the richness of Davao Beach and Nature. Davao City is President Duterte's hometown. He has served as the city's mayor for 6 terms. Friends from Davao are often proud to mention that the city is clean, crime rate is relatively low (as compared to other major cities in Philippines) and cars have speed limit of 30kph at downtown and 60kph at highways. The city also implemented smoking ban on all public areas. I'm amazed by these policies given that Philippines is a developing country.
How to Get There?
There are 2 airlines that fly direct to Davao Philippines from Singapore – Silk Airlines and Cebu Pacific Airlines. We chose to fly with Silk Air as timings are better. We paid around SG$1200 for 3 adults and 2 children. Not bad.  Fares during peak times go as high as SG$500 per pax.
Boarding area in Changi Airport is spacious. If you need a computer with internet, they have it too.
Silk Air served brunch on our way there and dinner on our way back. Food is okay. Not so bad.
Where to Stay?
We were initially considering to stay at either Marco Polo Davao or Park Inn by Radisson Davao. However a close relative offered her home to stay.  If you are planning to visit Samal Island resorts and gardens/farms that offer lodging, you probably won't need to book a hotel in the city.
How Long to Stay?
We stayed for 6D5N. We have a pretty easy schedule.
If you only have 3 or 4 nights to spare, I think it is still doable. I would suggest the following itinerary for 4D3N.
First Day:  Crocodile Park and City Tour
Second Day: Samal Island Resort; There are lots of resorts around Samal Island. For first timers, I would suggest a visit to Pearl Farm Beach Resort.
Third Day:  Malagos Garden Resort and Philippine Eagle Centre
Fourth Day: Eden Nature Park and Resort
When to Go?
We went during end of August slightly overlapping September school holidays. It was raining almost everyday at night. But no rain during the day. We missed the annual Kadayawan Festival held every 3rd week of August. It is a big cultural event in Davao. If we were to come back, we will probably look to book around this period.
What to Bring?
There are lot of mosquitoes everywhere. So make sure to bring lots of mosquito repellant. Insect bite ointments will come handy too. Hats and portable fans are recommended for kids. It is normally very hot from 11am-4pm. After 4pm, it becomes a lot cooler. Sunsets are normally at 530pm-ish – 90 minutes earlier than Singapore (~7pm). On the flip side, sun rises earlier as well, 530am-ish.
How to get to your Accommodation?
It is generally considered safe in Davao. You can hail a cab from the airport to your hotel/resort. If you are going straight to your hotel/resort from airport, the hotel/resort should be able to arrange a pick up/ drop off to airport. Fee should normally be inclusive of your stay or minimal (SG15-20$).
Our booking with Pearl Farm Beach Resorts includes pick up/drop off from and to airport. However, we chose not to immediately go to the resort from airport. It is risky as there is only 1 boat leaving in the afternoon at 2pm (and we land at past 1230nn). Immigration is fast so we manage to  exit airport around 1pm. We could have made it to Pearl Farm Beach Resort if we tried as Pearl Farm Marina Wharf is about 30 mins away from airport.
What to Do – Davao Beach and Nature?
Here is a quick runthrough of our 6D5N itinerary. I will be posting a more detailed blog on each park/resort on the next blog posts. Will update this main post after.
First Day: Davao Crocodile Park 
We arrived past 1230pm. The park is about 1 hour away from airport.  So it is easy to grab a bite along the way and head to the park.

Second and Third Day: Pearl Farm Beach Resort.
We spent two nights here. I think 1 night is a bit too rush for first timer in the Samal island. Link to the detailed post.

Fourth Day: City Tour.
After arriving from the resort, we spent the afternoon to check out People's Park, Bankerohan Public Market  and President Duterte's humble home.

Fifth Day: Eden Nature Park and Resort.
This place is huge. I would recommend 1 full day visit if you want to explore the park and enjoy most of the activities.

Sixth Day: Malagos Garden Resort. 
You will need at least half a day for this resort/farm. A side trip that can be added to this trip is the Philippine Eagle Centre. The centre is less than 10 minutes away from Malagos resort. We were not able to make this stop as we started the day too late (past 11am). They are newly renovated this year 2017. Check out their website for more information.

What and Where to Eat?
We had local Filipino food on most days, except the occasional breakfasts from McDonalds.
Yellow Fin

We ate at the branch opposite SM Lanang. We loved their Tuna Laing (Tuna in taro leaves with coconut milk, Rellenong Bangus (stuffed milkfish) and Mixed Seafood Kare Kare (mixed seafood with bok choy in peanut sauce served with shrimp paste)! I'm feeling hungry as I post this. Dishes are for sharing and I find their prices are reasonable for the food quality. We spent around SG50$ for 5 adults and 2 kids. <photo of yellow fin from internet?>, photo of menu and some food.

 

Mang Inasal

This is a popular fast food restaurant in Philippines. You will find this place inside the malls (SM, Abreeza Ayala Mall). If you are a tourist, you should try out their BBQ chicken and of course the yummy HALO HALO topped with double scoop ice cream.
 

Chika-an  

We also liked this eatery that is located inside the Abreeza mall. We loved the cheesy baked scallops, squid sisig and stuffed crabs. We also ordered their clam soup. The clams were huge (not your ordinary venus clams from wet market). I would have preferred the soup to be served a bit more spicy. They serve unlimited rice for SG8$ and kids eat free. I don't think it is worth it but there is no other option.

 
** 2 photos above taken from Chika-an website

Fishing Village @ Eden Nature Park Resort 

They cooked the tilapia that we caught from fishing. They were yummy. Tasted fresh and not muddy. There are other food dishes that you can order.
 

Malagos Garden Resort Restaurant  

Chocolate Molten Lava Cake Topped with Ice Cream

The pork binagoongan (deep fried pork in shrimp paste) is unforgettable! Will surely come back for that. You might also want to try out their ripe mango shake and home made chocolate ice cream.

 

Davao Dencia's Restaurant  

They serve tasty Lugaw Goto (porridge) with tokwa't baboy. The porridge itself is quite tasty and lighter on tummies. I would recommend this if you have been splurging too much in the last few meals.
Verdict
We will be likely back for a shorter trip next time to try out the other Samal Island Resorts. And probably take a quick visit to Philippine Eagle Centre to see the country's famous Monkey Eating Eagle.
Hope you enjoy reading and plan for that adventure to explore Davao Beach and Nature with kids.
---
---