Langkawi Malaysia Getaway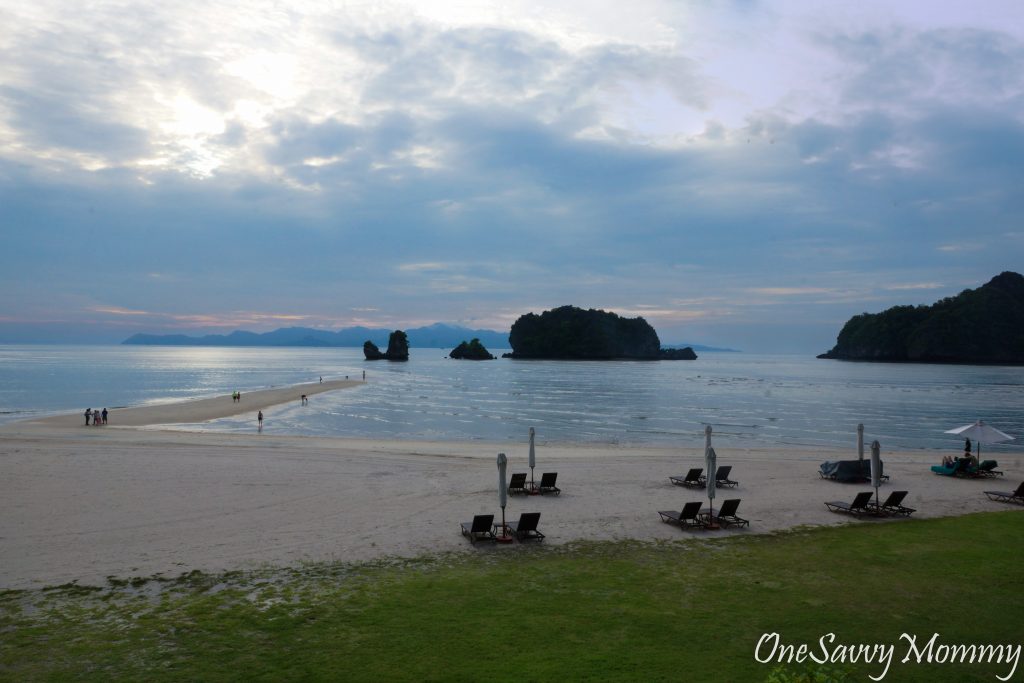 We were looking for a short weekend getaway to celebrate hubby's birthday. With 2 kids under 5 (and to maximize the weekend), we were looking for a place that is not far from Singapore. After searching the web for budget friendly places, we finally booked ourselves to LANGKAWI MALAYSIA.
---
How To Get There?
There are few airlines that fly direct to Langkawi  Malaysia from Singapore. We chose SILK AIRLINES as we enjoyed our previous trips using Singapore Airlines. For 2 adults, 1 child and 1 infant, we paid around S$600. I think it's a pretty good deal. If you can plan and book earlier, the total cost would probably be S$100 cheaper. Note that infants (under 24 months) are only charged a fraction of adult fare plus taxes if they sit on your lap. If you have kids under 2, I would suggest to TRAVEL MORE as you PAY LESS for their travels!
---
Where To Stay?
Langkawi Malaysia is only 1hour and 30 minutes away from Singapore. It is located in Northern Malaysia. Langkawi sand beaches are quite popular. It is hard to pick a resort as there are too many to choose from. Based from what I have read online and friends' feedback, Tanjung Rhu has the best shoreline in Langkawi. We are fans of white sand beaches, so without further hesitation, Tanjung Rhu it is!
There are only 2 resorts in Tanjung Rhu – Four Seasons Resort and Tanjung Rhu Resort. Since we are on budget, Four Seasons is out. Based on online feedback, Tanjung Rhu Resort looks like a pretty good choice for family with children.
---
How Long To Stay?
We booked 2 nights with the resort thru EXPEDIA. Total cost is about S$400 for 3D2N including breakfast. I think 2 nights are enough for family bonding. If you have more time to spare, I would suggest spending another 2-3 nights in a different resort in another area in Langkawi. It is going to take an hour or less to move from one resort to another via land transport.
---
When To Go?
We travelled May and this month is considered off peak. December to March are generally considered peak (generally dry and less chances of raining). Flights and accommodations will be more costly during peak periods. Not to mention resorts will be more crowded. During our stay, we only experienced very brief period of rain showers (~ 1 hour) a day. I think it is worth taking that chance if you are on budget and would prefer less crowded resorts.
---
What To Bring?
When travelling, our 2 kids usually share a big sized luggage for their stuff. As destination is a beach resort, we made sure the kids had their swimwears, sand toys, sunblock, hats, sunglasses, mosquito repellant and few sets of extra clothes. We also brought few toys and snacks to keep them busy.
I also suggest bringing your own portable kettle and bottled water (especially if you have a child less than a year old).
For the adults, perhaps bring some good books and movies/shows to enjoy when your little ones are resting/asleep.
---
How To Get To Your Accommodation?
The resort can help arrange transportation from airport to resort and back. It takes about 30 minutes one way. We chose to book our own as it is cheaper. Once we landed in Langkawi Airport, hubby booked us a ride using UBER. The driver that we had was friendly and spoke good English. It was really a smooth and enjoyable ride.
Because of that good experience, we also used UBER from resort back to airport. However, this time we were not happy with the driver. He looked drunk (and very sleepy).   He also started the trip prior to picking us up. His English is also not good so it was hard to communicate. I was scared as we also had 2 kids with us. It was very long 30min ride and we managed to reach airport safely (Thank God). The driver even had the guts to ask hubby to rate him 5 stars after the drop off.
It costs about 20 MYR using UBER. Booking thru the resort will be about 60 MYR one way for private transportation. If we ever go back, we might still take our chances with UBER or GRAB as it 3x cheaper!
---
What to Do?
We arrived in Tanjung Rhu Resort past lunchtime. We had some light snacks during the flight so we were not that hungry. It is time to check in and we are excited to see our room!
We booked DAMAI SUITE and it was gorgeous! The welcome drinks and fruit basket definitely warmed our hearts to the place.
What I loved most about the suite is the huge tub. The room also had 2 separate water basins – perfect for family. Here are some photos of our room.
We also enjoyed walking by the beach, building sand castles and what not. The kids enjoyed picking up seashells. There were lots of them!
There is also a good sized pool to enjoy a dip.
For those who want to lie nearby the beach, there are lots of benches available for guests.
The resort conducts small 'feeding fish' activity for the kids after breakfast in the mornings. The girls also enjoyed strolling around the resort and picking flowers. Needless to say, they had so much fun!
On our last day, the kids attended the beading activity. They get to keep the bracelets they make for free. My eldest also did batik painting. She loved it. It costs about ~20MYR.
On our last afternoon, we had to check out on time. We chose to stay at the resort whilst we wait for our flight in the evening. We stayed at their lounge area to cool ourselves. We were surprised to find some board games. We happily played with them to keep the kids entertained.
Sharing some nice views of the place…
---
What and Where to Eat?
Our resort booking included breakfast – kids eat for free. It is an outdoor restaurant so I would suggest for kids to wear their pants to avoid mosquitoes.
For lunch and dinner, we mostly had in room dining. They had pasta, chicken fingers, fish and chips and club sandwiches in the menu. On our first day, we had some Malaysian food. The beef rendang was good.
We initially planned to go to Four Seasons Resort (5-10 mins via cab away from Tanjung Rhu Resort) for lunch or dinner. We got lazy though. We prefer to just chill and eat whatever the resort has in their menu!
You can also get food and drinks by the pool. It is nice to enjoy this around afternoon from 4pm onwards.
---
Tips
Flight Experience
For this flight, be prepared to climb the ladder to board the plane (same when offboarding in Langkawi Malaysia). We were not expecting this but it was okay as we only had 2 small handcarry bags (besides the 2 naughty kids). I'm keeping a mental note to put in as much stuff in our check-in baggages to avoid any difficulties during boarding/offboarding in our future flights with Silk Air. A child carrier would also come handy to free up your two hands – one for bag and one for holding the rail.
Also as this is a short flight, there is really 'no entertainment' included. This means no in-flight TV for the kids. It disappointed my eldest a bit as she was eagerly expecting to watch some of her favorite shows whilst wearing her 'airplane' headset.
Normally for Singapore Airlines flights, kids get some 'activity' toys/kits. We flew with SQ twice recently before this flight and my eldest is having the same expectation for this flight. Well, it seems that it is not usual for Silk Air flights to distribute such kits for short flights. My 4 yo daughter bravely asked one of the cabin crew if she can have an activity kit. The crew handed her not 1 but 2 sets!! So next time you are flying with Silk Air, please do ask. Their customer service is good!
SIM Card/Internet Connection
One really good tip that I would like to share is to buy a prepaid sim card as soon as you arrive in Langkawi Airport (~20 MYR). There are 3 main phone service provider – Celcom, Digi and Maxis. Pick the one that has data/internet bundle. There are 2 stalls before you exit airport. Just pick one that suits your stay better. If you miss that, there are also stalls outside the airport. We used the sim card to book our UBER ride. Overall it should be pretty cheap compared to using your home country's ROAMING data plan. Connection is good and fast as well.
Langkawi Malaysia Resort Accommodation
Our suite is located at the 4th floor. It was inconvenient as there was no lift. Please make sure to inform booking reservations that you would prefer ground floor so they can make arrangements. We did not have problem with mosquitoes during our stay. Not sure if it would be a problem if you stay on ground floor though.
Mangrove Tour
The resort offers private mangrove tours if you are coming with older kids and up for adventure. We don't think it would be enjoyable for our 2 kids whose ages are under 5 so we skipped them.
Food before departing Langkawi Malaysia
If you want to take a bite before boarding your plane (and had enough of Malaysian food for the last 3 days), good news! There is a Starbucks outlet in the airport. They serve the usual coffee drinks. They also serve few pasta choices in this outlet! The kids shared an order of white sauce pasta. Serving size is good enough. They also had some nice sliced cakes available.
Verdict
Overall it was a very good experience for first timers in Langkawi Malaysia. If we come back, we will try out other popular resorts with KIDS' CLUB such as Andaman or Westin. Datai Langkawi is a popular choice for couples as well. Watch out for their reopening on mid 2018 after their renovation.
---
---