Splash Splash Away! Kidz Amaze SAFRA Punggol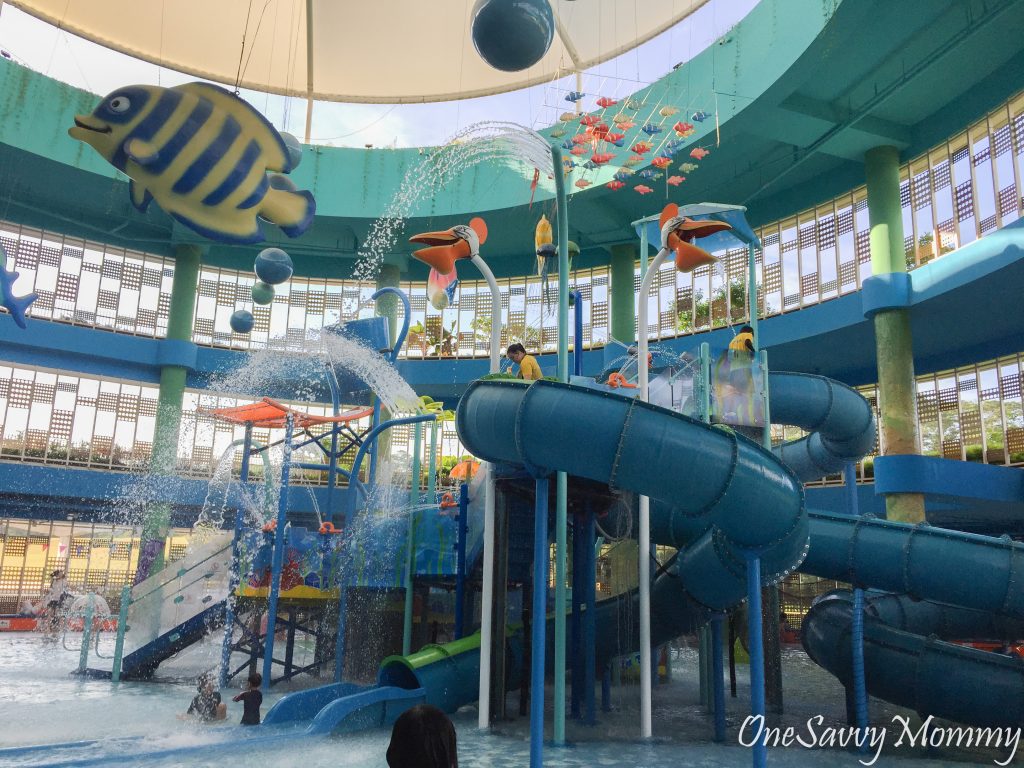 There are many waterparks in Singapore and they are mostly free. There are those inside the malls, even the Singapore Zoo and Gardens by the Bay has their own. The recently re-opened Palawan Pirate Ship (formerly Port of Lost Wonder) at Sentosa is now free as well! With the weather these days are unpredictable. I don't want to make plans and cancel last minute due to rain. So we (me and the kids, but mostly me) decided to go explore the Kidz Amaze SAFRA Punggol.
The size is pretty big compared to other water playground. It is definitely taller – having built in 5 slides.
5 SLIDES at KIDZ AMAZE SAFRA PUNGGOL
TIP: It is cheaper to get the Kids Amaze membership and then pay for the member entrance fees. If you are a SAFRA member, you can sign up your child (5 and below) for SG$25. Otherwise it will cost you SG$65. Note that all adult and kids accompanying member will pay member entrance fee so I think it is still worth it to get membership.
There are 2 slides that my 5 and 2 year old enjoyed. The bigger one (green colored slide) is a bit too big for the 2 year old. Every time she slide down, she gulped down lots of pool water. But she loved it so she went on for it a few times! The smaller slide (blue colored slide) is more appropriate for those under 3. Or at least to get the kids overcome their fear in using the slides.
TIP: Kids should be wearing their swimming attire. If you are little one is not potty trained yet, swimming diapers are required. Don't forget their towels and extra clothes.
The 2 girls also enjoyed the water guns opposite the slides. The 2 year old particularly liked this small "slide" with monkey bar.
What I particularly liked about this place is their shower and changing area. The shower has hot and cold water. Liquid soap are also provided. The doors are also child friendly where the door can be closed but there is an option to open the top part of the door so the parents can watch their older kids take their showers. There are also ample space to put down strollers and bag outside the shower rooms.
I was too busy changing that I forgot to take some photos! I will update this post on our return.
TIP: Lockers are available for rent – SG$4 (medium); SG$6 (large). Prepare exact change as none will be given.
KIDZ AMAZE SAFRA PUNGGOL PARTY 
As we are about to leave the area, I noticed the party rooms just beside the shower area. I inquired with the staff and they mentioned that there are 3 rooms for rent. I think the pricing is good for members. You can opt in to bring your own caterer or get their all in package – includes Mcdo happy meal and 1 entertainer for games and cake cutting.
There is no reservation in party booking. You need to head down and pay the full fee to reserve the date. If you are planning to hold your little one's birthday on a weekend there, better hurry as weekend timing (particularly 2-5pm slots) are very popular.
KIDZ AMAZE SAFRA PUNGGOL PARTY PACKAGES
KIDS AMAZE SAFRA PUNGGOL PARTY ROOMS
Overall, we enjoyed the place and might actually book a party for one of the kid's next birthday.
Other useful information – Kidz Amaze SAFRA Punggol:
How to get there? It is very near to Punggol mrt. You can take lrt and alight at Sam Kee.
How much time do you need? Plan for at least 2 hours to enjoy this place. I would recommend this for 7 year old and below. It might be too boring and/or expensive for older kids.
What else to bring? Adults need to come in with their dri-fit tops and shorts.
Food/Snacks? There is the ever convenient McDonalds outside Kidz Amaze. Otherwise, head back to Waterway Point (mall next to Punggol) for more choices.
Watch out for our future post as we visit other Kidz Amaze facilities.
---
---