River Safari: Panda, Panda – What do you see?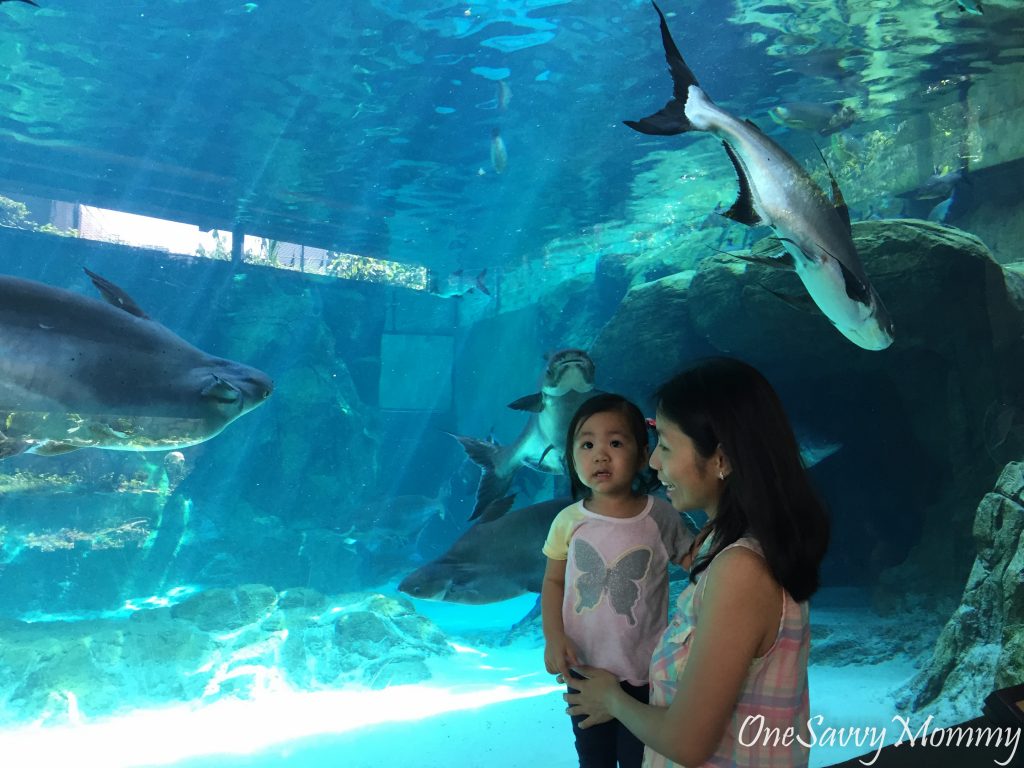 My 2 year old is currently going gaga over the song 'Baby shark'. Since we are 'Friends of Wildlife' members, I decided to bring the kids to  River Safari to get up close with sea creatures. I'm excited as it will be my daughter's first time at the park!
We arrived past 1030am in the morning. And the kids immediately ran towards the direction of the Zoo. I can't blame them. We have visited the Zoo many times that I lost count.
River Safari is just next to the Zoo. Car/Tax drop off is the same location.
River Safari Aquarium
We followed the river trail and there were different kinds of sea creatures inside the enclosed aquariums. Some fishes looked like giant versions of seabass (looked those being sold in the wet market).
For those are brave and adventurous, there is small touch pool. There you can see the starfish up close and touch them. I don't have photo as the kids (and mommy) won't dare to. Ok maybe, in our next trip.
After 45 mins of looking at different aquariums (or river trails as they call it), the kids got a little bored. After all, they all kind of looked similar!
River Safari Giant Panda Forest
It was all excitement when we saw the the giant panda display welcoming us to the Giant Panda Forest! We can't resist but to take a photo.
They also have the Red Panda. It is very very cute!
The next stop is to see the Giant Panda! We only managed to see Kai Kai as Jia Jia is nowhere in sight. Can you spot them in the photo?
River Safari Cruise
We headed next to the boat plaza to do the River Safari Cruise. The kids were happily surprised to see an ongoing animal presentation. We arrived late around 1145am. We queued to take some photos with the huge storks and iguanas.
TIP: Animal presentations run twice 1130am and 315pm. It was definitely one of the highlights of our visit. So make sure to check with the counter before entering the park.
There was a short queue for the River Safari Cruise. We waited around 15 mins for our turn. One boat approx can fit in around 40 pax. It is a good 20 minute ride. Breeze and view are nice. You can see the animals from the Zoo like the elephants and giraffes.
I wanted to take my eldest to the Amazon River Quest. She is now tall enough to ride with an adult (At least 1.06m). However, the girls are hungry and wanted to eat! Maybe next time. To ride, adult fee SG$5 and child SG$4.
We visited the Amazon Flooded Forest before we exited the park. You will see the Giant River Otter, the huge Electric Eel and those cute manatees.
River Safari park operates from 10am-7pm. It is good idea to visit the park around 4pm onwards but don't come too late. Last Giant Panda viewing is at 6pm. River cruise and quest close at 6pm as well.
Other Useful Information:
How much time you need? Allot around 3 hours to fully enjoy the park.
Suggested itinerary combinations:
River Safari + Jurong bird park – If you are coming on a weekend, you can visit River Safari in the morning and catch the bus leaving at 1pm to Jurong bird park. If you want to do bird park first, you can catch the bus leaving for River Safari at 130pm.
Singapore Zoo + River Safari – This is also a good option if you are not planning to visit Night Safari. Leave the Singapore Zoo around 4pm and head to River Safari. The 2 parks are beside each other and it a short walk from one park to another.
How to get there? For those based in Singapore, there are express bus coming from Tampines, Bedok and Sengkang. They only operate on weekends, public and school holidays. Mandai Express
For tourists, there are some tourist spot and hotel pick ups available. Singapore Flyer Pick up Hotels Pick up
---
---