Relax and Chill out in Puerto Princesa Palawan with the Kids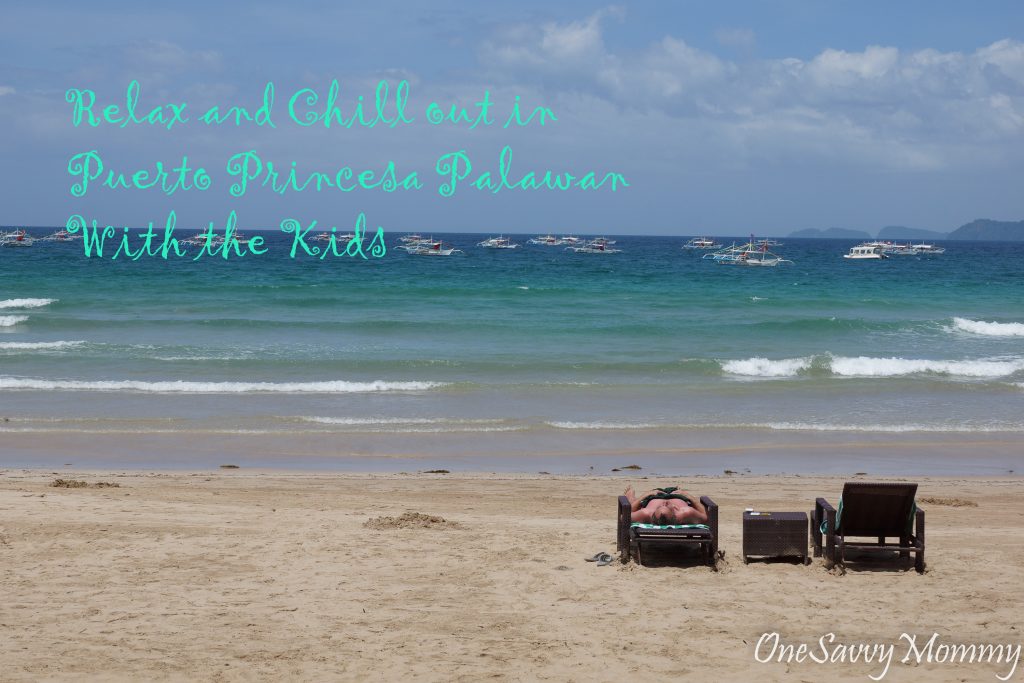 One of the best places to spend your summer holidays in Asia is Philippines. This time, we headed to relax and chill out in Puerto Princesa Palawan with the kids.
How to get there?
We took the route of Singapore – Manila – Puerto Princesa. It takes about 4 hours to get to Manila and 1.5 hours from Manila to Puerto Princesa. If you are considering beachfront resorts in Puerto Princesa and flying with kids, I would advise to either make a stopover in Manila for a night, or fly straight to Puerto Princesa but book a city hotel near Puerto Princesa International Airport.
Where to Stay?
Holiday Inn Resorts and Manila is a good fuss-free place to stay near the airport. For comfort food, Mcdonalds is right beside the hotel! There is also the free Resorts World shuttle that can take you to the airport. Do inquire at front desk for timing and frequency.
For the beautiful island of Palawan, we picked Sheridan Beach Resort and Spa which is a beachfront resort located 2 hours away from Puerto Princesa International Airport. We initially planned to go to El Nido but dropped the idea due to the long travel time of 4-5 hours via land. I think it was a good decision as we found out that there are daily from flights from Manila and Cebu to El Nido via AirSwift.
How long to stay?
We spent 4 nights at the resort. However, 2 nights is good to enjoy the resort plus an additional night if you would like to visit the famous Underground River. They only have 1 main restaurant so food choices might be limited for foodies. They do offer dinner buffet on some nights. The kiddos enjoyed their pasta and bread.
They also some fire and dancing performances at night. The kids loved them!
When to go?
We went mid March and weather was nice. Sunny and no rain. The resort wasn't crowded and most guests are non locals.  It is hard to predict the weather accurately these days but I think the months of November and December would also be good time to visit.
What to bring?
Aside from the beach essentials of swimwear, sand toys, sunblock, hats and mosquito repellant, we also brought along 2 giant floaties for this trip. The resort was able to inflate them for us and the kids had a blast!
The resort has wifi in public areas but not in rooms. Roaming data plan is a must if you want to stay connected. However, if you can resist, then try to just relax and chill. Opt for reduced phone and internet usage for a while.
What to do?
There is a huge beach for the kids to play and enjoy. The resort also has swimming pool for adults and kids. For families that are more adventurous and with older kids, the resort can organize tours such as ATV jungle track tours, trekking and ziplines!
Puerto Princesa Subterranean River National Park
We opted for one single trip which is the famous Underground River tour. It's popularity rose when it voted as a New7Wonders of Nature recently in 2012. Previously, it was part of UNESCO World Heritage Site in 1999.
Slots fill out fast so do book early. The daily boat transfers that go to the Underground River is about 5 minute walking distance from the resort. This is definitely a plus for the resort! The Underground River from Sheridan resort costs about 1800 pesos per person (~SG$50 / ~USD$35). It is not cheap but I don't think it is worth missing the trip given that a lot of tourists come to Puerto Princesa just to visit the Underground River.
Note: Daily trips start at 730am. My 2 year old felt very sleepy during the underground river itself as it is also very quite and dark inside the cave.
Photo first with their gigantic (perhaps not useful) life vests.
This is us before we entering the underground river.
If you are lucky, you will get good companions in your boat.
Yay! We survived the 45 minute boat ride! It covered only a fraction of the total length of the underground river. Special permits are required to go farther and deeper into the cave.
It was definitely a trip to remember. We will be back soon.
Other Useful Information:
Sheridan Beach Resort and Spa
Location: Sabang Beach, Puerto Princesa Palawan, Philippines
Email: [email protected]
Website: www.sheridanbeachresort.com
---
---