Animal Land Children's Farm in Melbourne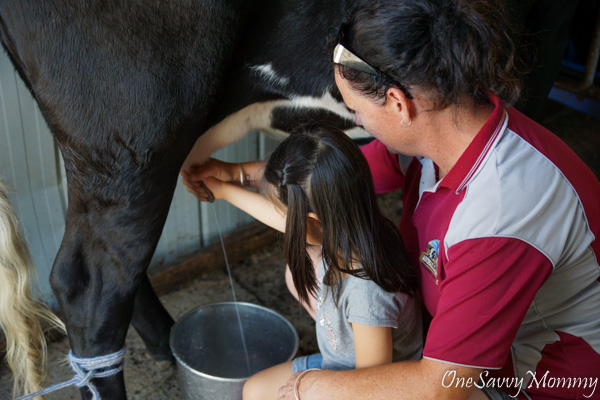 Animal land Children's Farm in Melbourne aims to give children a real, hands-on farming experience. Unlike other animal attractions and zoos, visitors don't simply observe our animals from a distance. In this farm,  kids get to hold, pat, feed and ride with a tour guide (a real farmer!).The farm is located in Diggers Rest, about 30 mins away from Melbourne's Central Business District. They conduct tours in a group. It is best to book online to avoid disappointment!
The tour started with a hand led pony ride. L was 19 months old and enjoyed her first pony ride! She totally loved it and the farmer guide happily agreed to take her for another round.
The next stop is milking Maggie the cow! It was a wonderful experience. Now they know where their drinking milk comes from.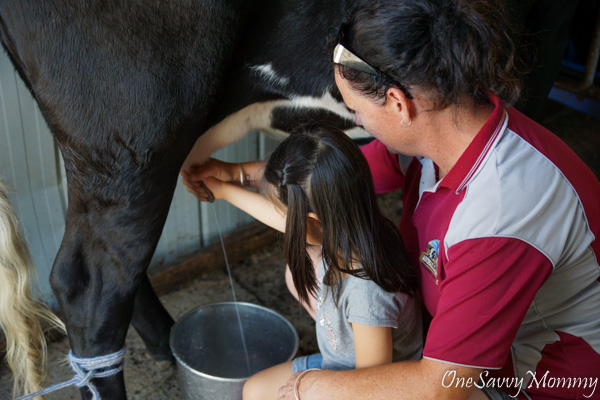 We walked to the nursery to pat the guinea pigs and rabbits. They were so cuddly, L thought they were stuffed toys. They did not like to hold the chick though.
We went to the dam to feed the ducks. It was a little bit overwhelming at first as all the ducks seemed hungry!
Before we made our way to the tractor ride, the farmer guide also showed us to the chicken houses. The kids collected eggs from their nests. We did not stay long since the kids did not like the chickens (reasons I don't know why). Otherwise, the farmer will be happy for the guests to try their luck on catching the chicken.
We toured this farm in Melbourne with a real farm tractor. One of the sheep Penny rode with us.
The kids got to feed the sheep and cows. There was also a black bull. It was huge!
At the end of the farm tour, the kids even got a Junior Farm Certificate each. We had a blast and highly recommend this farm in Melbourne to all families with young kids.
Ticket cost AU$15 for adults and AU$22 for children. Free for 18months old and below. Worth every penny!
Check out their website for more information.
---
---