Singapore Zoo Special Experiences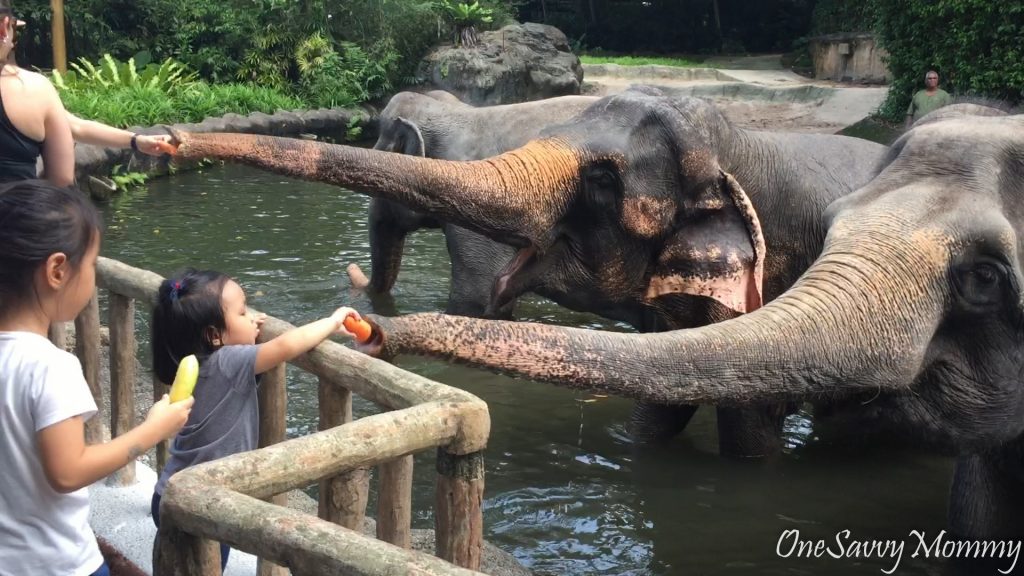 Your kids have seen all the animals and the shows at Singapore Zoo. What else can they enjoy on your next trip? Don't miss the  Singapore Zoo Special Experiences for kids.
TOP 7 SINGAPORE ZOO SPECIAL EXPERIENCES:
Token Feeding Sessions
There are few animal sessions where you can purchase food on site to feed the animals. Make sure to get a copy of the Singapore Zoo map to check on latest schedule.
TIP: Please come early to ensure you can purchase food for feeding. Food baskets are limited. Please bring exact change as well – 1 food basket is 5$.
Goat – Food basket contains cut carrots or long beans. There are usually 2 feeding sessions each day (1130am and 330pm).
If you miss the sessions above or food baskets ran out, you can check if they have allotted some leaves branch on the left side of the fence. You can feed the goats with those leaves! If you can't find them, please do approach one of the friendly Zoo keepers.

Giraffe – Food basket contains cut carrot and/or leafy vegetables such as bakchoy. There are usually 3 feeding sessions each day (1045am, 150am, 345am). These feeding sessions are quite popular so expect long queues.
Elephant – Food basket contains apples and/or bananas. There are usually 3 feeding sessions each day (915am, 130pm, 430pm).
If you are planning to watch the Elephant Show at 330pm, try to sit on the middle bench area (the one with shade). The feeding session will start right after the show and queue starts on that area.
**There are 2 other feeding sessions that we haven't tried yet – Rhinos and Baboons. Will update once we do!
Pony Ride
If your child is 1.2m and below, she can ride the pony. There is a guide who will help your child in going up and down the short ladder to ride the pony, He will also be the one to guide with your child along the trail. The whole ride is about 5 minutes or less.
TIP: You can purchase ticket at the counter at Kidzworld, next to the Carousel. A ticket costs S$6 and non refundable! Make sure your child will do the ride before purchasing. You can bring your child first to have a look   at the pony riding area and see if he/she is up for it.
Carousel
Kids just love carousel, don't they? A ride will cost you about S$4. You can also purchase 3 rides for S$10.
TIP: Closed from 12pm-1pm so come before or after that.
MegaBounce
If your kids like bouncing, this one is a must try. I won't suggest it for kids under 2 though. It takes some coordination and strength to be able to bounce right up and down. A ticket cost S$10. Bounce time is about 5 minutes.
TIP: Follow the tram trail from STOP 4 to STOP 1. You can find this after Kidzworld, near the Garden with a View, before Ah Meng Memorial.

Falabella Grooming Session
This only happens once a day at 10am. Make sure to arrive early and avoid disappointment. It is really a good session if your kid loves ponies. You can really be up close with them and even brush their hair. 
Animal Petting Session
So far we have been catching these sessions after lunchtime (between 1pm-2pm). The zookeepers and animals position themselves under the tree opposite the Kidzworld ticketing counter.
Orang Utans Close Encounter
Zookeepers will be feeding the orang utans so you will get a chance to see them up close. This is an opportunity to take some nice photographs for keepsake as well. There are usually 3 sessions (11am and 330pm at Orang Utan Island, and 430pm at Orang Utan Boardwalk)
Thanks for reading Singapore Zoo Special Experiences. If you have other experiences in the Zoo that you would like to share. Please feel free to comment!
---
---