Top 10 Places to Go in Melbourne with Kids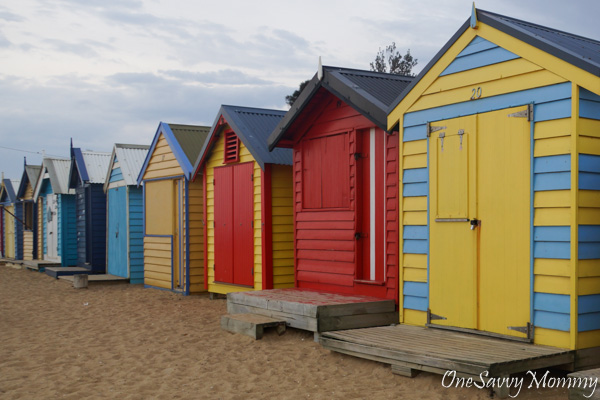 Top 10 Places to Go in Melbourne with Kids
1. Healesville Sanctuary
It is a Zoo located in the Eastern part of Melbourne. It took us approx 90 minutes to get there. Please try to leave as early as possible as they open 9am and closes at 5pm. Animal areas are closed by 430pm.  Australian animals that you will see up close are Koalas, Wallabies, Tasmanian Devils, Wombats and Wedge-Tailed Eagles (Australian's largest raptor!). Adult tickets cost AU$ 36 and child 4 yo and up cost AU$18.
You can also find Australian Wildlife Health Centre inside Healesville.  The centre treats more than 1,500 sick and injured native animals every year. Don't forget to make a stop there as your little one will enjoying role playing as a vet.

2. Yarra Valley
This is where you will find Australia's finest wineries. You will probably need at least 2-3 hours to visit the area. It is very near to Healesville Sanctuary so I would suggest to combine them together in a day if you can. Leave the zoo around 2pm and go Yarra Valley after. We visited Domaine Chandon where they produce the famous Moet & Chandon champagne. I remember that this is the brand that we had during our wedding toast! If you drink, you will probably enjoy their tasting bar. If I remember correctly, you can choose to taste 2 drinks plus it entitles you a discount on any wine purchase!
We also visited the Yarra Valley Chocolaterie & Ice Creamery where the kids enjoy more. There is so much chocolate variety inside the store. You can sample their chocolates for free! Don't forget to try out their homemade ice cream too.
How many kids can you see in this photo? 😉
3. Myuna Farm
Myuna Farm is a community farm located along the banks of Dandenong Creek in south-east Melbourne. It took us about an hour to get there. The farm offers plenty of activities for the family, including hands on contact with a variety of animals, pony and train rides, and spending time in our animal nursery. This is the family's first time to see a camel and alpaca. We were absolutely thrilled! Entrance fees are also way more reasonable than Healesville (Family of 4 costs AU$ 23).
4. Fruit Picking @ Bacchus Marsh
We first went to Naturipe Fruits for strawberry and apple picking. It is the first farm/shop you will see when you reach Bacchus Marsh. This is our FIRST TIME EVER experiencing fruit picking. Although it was still sunny when we went (around 4pm), we had an AWESOME TIME! The strawberries are the biggest and sweetest I've ever seen. The green apples are crunchy and surprisingly sweet too! Fruits availability are seasonal. On other times, they will have cherries, nectarines, etc.
We dropped our plan to do the Great Ocean Road trip. Instead we used the spare time to visit Strawberry Forrest at Bacchus Marsh. It is in the same stretch as the Naturipe Fruits but further down. Strawberries are grown vertically so there is no need to bend to pick. However for kids, it is not easy to pick compared to the traditional one. Plus I think the strawberries are so much sweeter in Naturipe Fruits farm.
5. Brighton Beach
This is where you will find one of Melbourne's well known icon –  a long stretch of colorful bathing houses. They are perfect backdrop for photo shoots. Brighton beach is located 11 km south-east of Melbourne's central business district (CBD).  We made this unplanned stop on our way back home so pardon the parents' beach-unworthy get ups! It does get pretty chilly in the late afternoon so light jacket is a must.
6. Phillip Island
Phillip Island is an Australian island about 140 km south-southeast of Melbourne. You will need approx. 2 hours to get to the island. We were mainly planning to catch the Penguin Parade. It is going to be long night for the kids so perhaps best to start a little later (~11am). However if you are up for it and can visit early, do check out the Koala Conservation Centre, Grand Prix Circuit and Churchill Island Heritage Farm.
Penguin parade is about seeing little penguins returning home to their burrows at sunset. Penguin arrival time differs each month. Check the arrival time in this calendar prior to your trip. You will need to arrive at least an hour prior to the penguin's arrival to get the best seats. Don't forget to bring your jacket as it gets cold at night especially with the breeze coming from the beach.
Stop by City of Port Phillip for boat watching before heading to Phillip Island for some fish and chips.
If you have time, you can visit Nobbies Ocean Discovery Centre to see the seals. We found a penguin hiding underneath wooden bridge in Nobbies.
This is the top view shot where the penguins are going to come out from the beach. You will see the stands at the centre left side of the photo.
Spot the pink penguin!
Visitors trying to get best view – sitting on the sand to spot the first penguin to arrive from the beach.
Before we left, we were warned to check underneath our cars of lost penguins. Voila! We found one!!
7. Animal Land Children's Farm
This is where the kids had the most memorable farm experience in our entire stay. The kids got to hold, pat, feed and ride animals with a real farmer as guide. The farm is located in Diggers Rest, about 30 mins away from Melbourne's Central Business District. On weekdays, they normally conduct 1 tour a day, so it is best to book online or call them ahead of time. Check the detailed post on this visit.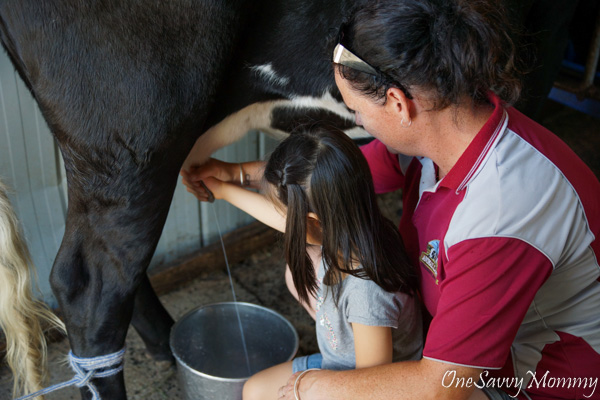 8. Enchanted Adventure Garden
This place is perfect for adventurous kids. There are different types of mazes  to explore, tree surfing  and thrilling tube slides! Best time to visit when weather is cloudy. Location is about 1 hour away from Melbourne's CBD. Do allocate at least 3 hours to enjoy the place. Adult ticket AU30$, Child AU$20. Free for 2 yo and below. For tree surfing with kids (4 yo and up), add AU$20 each.
You need to drag your own tube up for the slide. It could be tiring. Photo below is the shortest slide for the kids.
L wanted to do the slide as well. Since she asked for it, we let her tried it. She did not want to do it again after. 😉

9. Puffing Billy
For fans of trains and railways, this is a must-see attraction. Puffing Billy is one of Australia's popular preserved steam railway. When we were there, they had a special attraction of Thomas and Friends. They had arts and craft, face painting and inflated playground for the kids to enjoy. Plan for at least 3 hours including the train journey itself. Fares vary depending on destinations. Check out their fares table here.


Some views along the train ride.
The kids got to do other activities that day before and after the train ride.
10. St. Kilda
Visit St.Kilda to enjoy the long stretch of nice beach, lush parks and botanical garden. Luna Park Melbourne is also here. It is an amusement park where kids can enjoy rides like carousel and rollercoaster. It is best to visit on weekends as food markets and Luna park are opens only on weekends.  We had reserved our weekends on other activities and missed out. Oh well, save for the next trip!
TIP: If you can't make it to Philip Island for the Penguin Parade, make sure to stay back after sunset in St. Kilda. Catch the fairy penguins swim back home to their nests in burrows for free!
Thanks for reading! Hope you find this article useful for your next trip in Melbourne with kids.
---
---