Visiting Hello Kitty Town and Thomas Town in JB with kids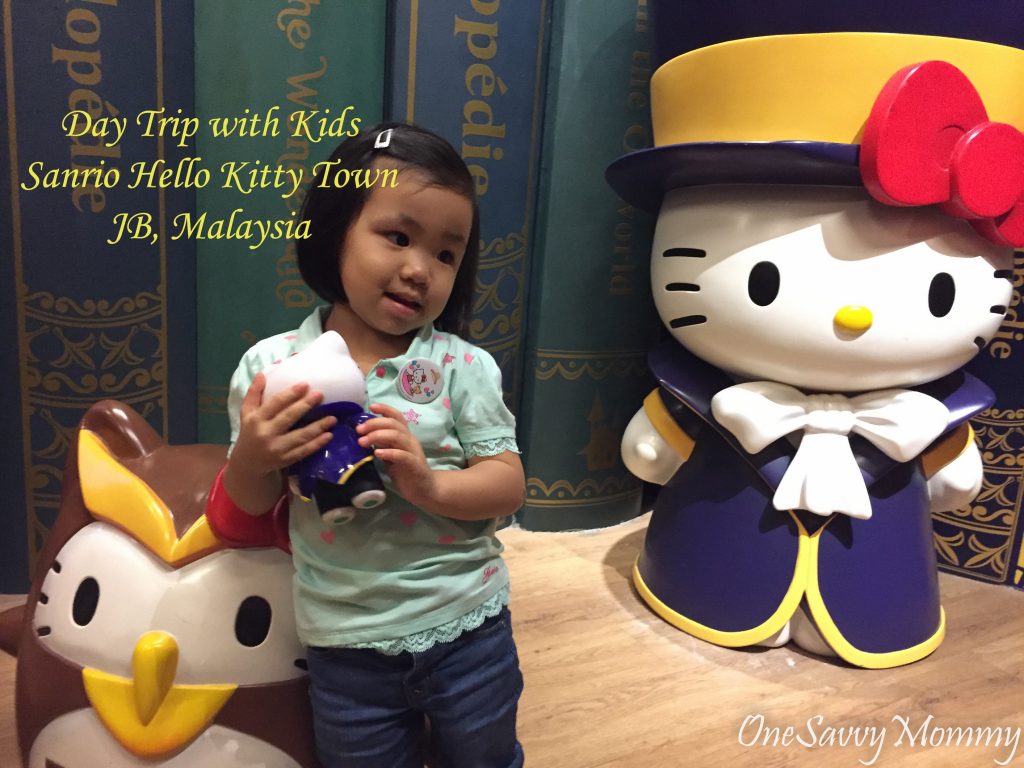 We have been to Johor Bahru (JB) a few times before, but never with the kids! Hello Kitty Town and Thomas Town has been opened for more than 5 years and we have not visited the place so far. As mom is visiting, we thought that it is a good opportunity to visit Hello Kitty and Thomas Town as a family.
How to get there?
There are a few options:
The cheapest option is to take regular buses departing from Singapore to Johor Bahru. Buses depart from Kranji MRT station, Woodlands Bus Terminal, Queen Street Terminal.
Take the train from Singapore to JB. Best to book online a few days ahead. Link here. Although it is cheaper to get the return tickets from JB to Singapore in JB, I would still advise to book the return tickets online as there is a long queue in JB and the tickets run out very fast!!
Another option is to take a shuttle from certain pick up points in Singapore to Johor Bahru (e.g. Changi Airport, Resort World, Marina Square).
There is also the WTS travel coach that goes from city straight to Johor Bahru. It costs around SG$24 per pax. More information here.
The most expensive option (but most convenient!!) is to hire a private van to take you straight to Hello Kitty and Thomas Town. It is likely to cost at least SG$90 one way.
We decided to go for the shuttle option that picks up from Changi Airport and drops off at Johor Bahru CIQ. It costs $SG10 per adult and $5 per child. You can check departing schedule and other pick up points here.
We left on time around 1015am from Changi Airport. At the beginning it was smooth and convenient as we were all seated and traffic is good. Crossing the Singapore immigration was a breeze as well except my mom had problems with her fingerprint. That took a while but it wasn't that bad. By the time we are done with the immigration, the coach is full of people!!! Not sure where all the people came from. Perhaps from the previous shuttle. We are not really sure. So we had to stand in the bus with all our belongings to cross the border from Singapore to Malaysia. The distance is short but heavy traffic.
After braving the long queue at Malaysia immigration (it took us 45 mins of waiting time), we can now finally go to Hello Kitty and Thomas Town. Hoorray! As it is lunch time, we decided to have a quick lunch at the mall beside CIQ – Johor Bahru City Square.
Where to eat?
Singapore residents will know that food is so much cheaper in JB. We decided to head to our favorite food place in JB – NANDOS! There are many other options as well. Even Din Tai Fung has opened a branch in JB City Square! Don't forget to grab a slice of cake from Secret Recipe too!
How to get from Johor Bahru CIQ to Hello Kitty Town and Thomas Town?
There is a taxi stand from City Square Mall. Normally drivers would like to fix fares so be prepared for it. We decided to book 7 seater Grab as the regular taxi is too small for us. It takes about 25-30mins to get to the Hello Kitty and Thomas Town from JB City Square.
There is also the Causeway link bus service that runs every 90mins from/to JB CIQ to Hello Kitty Town.
Hello Kitty Town and Thomas Town
So finally, we arrived. We were rushing as it was almost 2pm and the place closes at 6pm. The kids were very excited.
TIP: Bring your Maybank card if you have one. They normally have discounted tickets if you pay using Maybank.
Hello Kitty Town
There are scheduled shows so be sure to catch them. My daughter started her love affair with Hello Kitty after the show!
There are also kiddie activities inside where one can make hello kitty cookies and crafts.
There is also a photo booth area where one can dressed up as Hello Kitty and Melody. The costumes are worn out though! And you have to pay separately if you want their edited photo.
There is a Hello Kitty tea cup ride that we enjoyed as well!
The place is not that big so the kids had enough of Hello Kitty Town after 2 hours. We decided to go upstairs and check out Thomas Town.
Thomas Town
Hello Kitty Town is on the 2nd floor of the building and Thomas Town is on the top floor. So yeah it is pretty accessible and makes sense to get a combo ticket when you visit!
There are so many ride options here compared to Hello Kitty Town. The queue isn't long so we were able to ride them all!
Knapford Station with Thomas
Harold's Helitours Ride
Windmill Ride
Bertie the Bus
Bumping Buffers Steamies and Diesel Ride
Colin Crane Drop Ride
There are also scheduled shows with Barney, Bob the builder and Angelina Ballerina! We missed them due to limited but we will back next time for them.
Bob the builder

 
Barney
Overall, it a was a very good trip. For those who wants to splurge and have time, I would recommend an overnight stay in Hotel Jen next to Hello Kitty Town and Thomas Town.
---
---