Visiting Taipei with Kids in November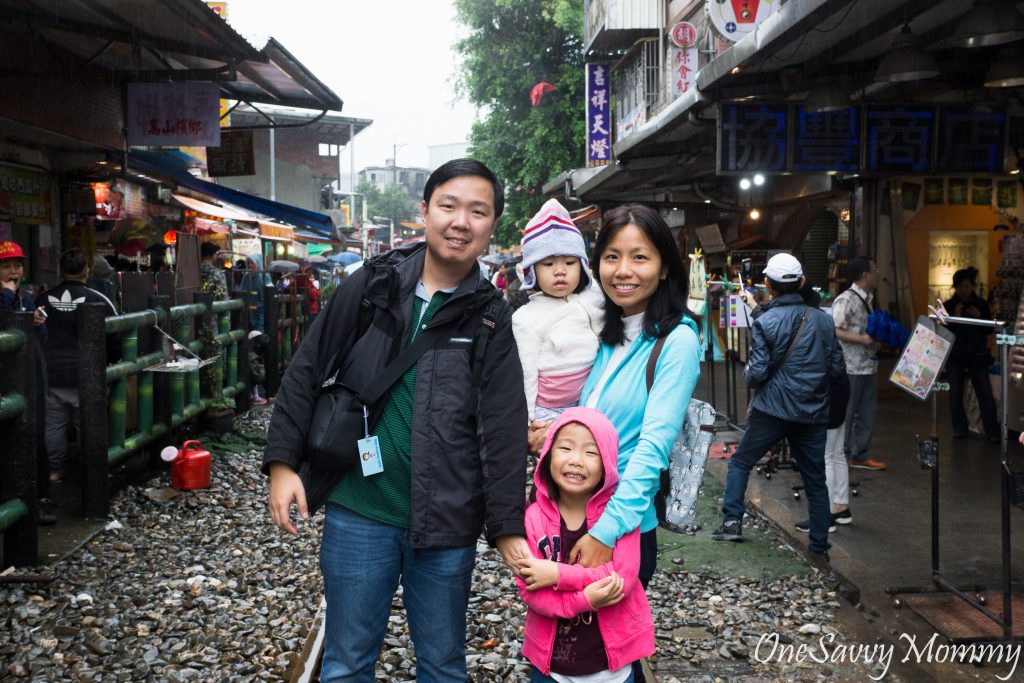 My husband and I have visited Taipei 6 years ago during summer (August).  It was very hot and humid with occasional rain showers. So we thought of visiting Taipei with kids in November. November is considered Autumn in Taipei, Taiwan. I had high expectations of weather based on previous years' averages (Imagine cool breeze but not that chilly, sunny and cloudy).Well, it did not turn out that way. It was raining almost everyday when were there. Although weather wasn't great but we still had a grand time with the kids!
How to Get There?
There are few airlines flying direct to Taipei from Singapore (Singapore Airlines, Scoot, Jetstar, Eva Air and China Airlines) . Choose an airline that fits your schedule and budget. Note that your destination airport should be Taipei Taoyuan International Airport. It takes about 5 hours to get there. If you are looking for a flight from a different location, a good site to check for airlines and fares would be skyscanner. I used this site at times when I'm not familiar with the airlines/available routes/fares of my target destination.
We booked with Jetstar during their promotion. It was about SG$1000 for 3 adults and 2 kids plus 40kg check-in luggage. It was a pretty good deal. However, changing flight dates does not come cheap with budget airlines. Also most of the fares are non refundable. So best to be prudent and not get carried away with promo fares if you are undecided.
Where to Stay?
There are a lot of family rooms in 3-4 star hotels in Taipei. Family rooms are those rooms with 2 double beds. Prices are also reasonable – SG$150 per night. Hence, I think there should no need to look for an Airbnb accommodation even when travelling with family and kids. In Taipei, it is risky to book an Airbnb accommodation as it is illegal for  people who do not hold a license to offer hotel rooms or other types of accommodation to offer their flats/rooms in Airbnb.
We wanted to stay near Taipei Main Station and/or Ximending area. There were too many choices. We tried to pick the most valuable accommodation – cheapest rate with good rating/feedback and can accommodate 3 adults with 2 kids.
Our top 2 choices were:
Via Hotel Ximen – A close friend stayed here and had good feedback. The reviews online were excellent too. It is walking distance to Taipei train (Mass Rapid Transit or MRT). The hotel's major downside is that taxi/cab can not enter the narrow street in front of the hotel. If  you have kids and many luggages, this isn't an ideal situation.
Taipei of Diary Hotel Taipei Main Station – It is located near to a hotel we previously booked (Cosmos hotel). The reviews online were good, but isn't as good as Via Hotel Ximen. The front door of the hotel is on a major road so no issues with luggages here. It is farther from train (MRT) compared to Via Hotel Ximen
We booked with Taipei of Diary Hotel in the end. We enjoyed our stay.  They provided complimentary bottled water daily. And their breakfast was generally acceptable considering it is complimentary.
Breakfast choices included hot porridge, plain noodles with soup, rice with braised pork, etc. There was also a toast and jam station. Meanwhile, the coffee and tea area is generally open 24/7.
Our double room was clean and beds were comfortable. The walls between the rooms were thin indeed. However, it was generally quiet when were there.
Toilet and shower area is good enough. Other customers complained about the gap between the toilet door and the ceiling. It was acceptable for us.
How Long to Stay?
There are so much to explore in Taipei. We were there only for 4D3N and it was very rushed. I would recommend at least 4 to 5 days. And if you have more time, you can also venture out of Taipei to nearby cities (Taichung, Hualien).
When to Go?
I would recommend visiting Taipei during the cooler months. Avoid late May to August as it is Summer in Taipei. There is always the risk of rain showers during your visit so make sure to bring your umbrella or poncho.
What to Bring?
Umbrella / ponchos – You can also easily buy them within the city if you prefer a lighter luggage. If you are visiting from November, I would suggest to bring a windbreaker as it gets pretty chilly in the evenings, especially if it is raining. Also bring your swimsuits if you are planning to try the hotsprings.
Taiwan dollars –  For Singapore dollars, you get more value for your money when you vonert in Taipei. There are many money changers in Taipei Taoyuan International Airport. I found the one with best conversion rate between SGD to NT is the money changer next to the food court (departure hall area). We did not know and had converted most of our SGD in Singapore. The difference is about NT$1 for every SG$1.
How to get Around Taipei with kids?
It is generally safe and easy to travel within Taipei without having to rent your own car. The taxi/cabs are abundant and relatively affordable. Taipei MRT train is also cheap, fast and reliable.
Taoyuan International Airport MRT Airport to hotel:
They also have the Taoyuan International Airport MRT connecting to downtown Taipei City. It takes about 40 minutes to get to Taipei Main Station and costs NT$160. This is the cheapest way to get to your hotel from the airport. However for families with young kids, I would recommend taking an airport taxi. It costs about NT$1100-1200. Another option is to check with your hotel if they offer pick up from airport. It is normally cheaper to arrange transport from hotel (NT$1000).
Easycard:
If Singapore has Ezlink card, Taiwan has Easycard. Get one as soon as you can. You will need it for your MRT and bus travels. And a lot of food shops and convenience stores accept easy card just like they do here in Singapore. For those based in HK, that would be the equivalent of octopus card.
Hiring van with driver:
For our 2 full days in Taipei, we opted to hire a van with a driver to get around. We wanted to maximize our time so we planned for a few places a day.  It cost NT$ 5000 per day. We got this referral through our close friend who visited Taipei few months ago. Mr. Chen, the driver was very friendly and polite. He picked us up from hotel at about 9am and dropped us off about 830pm for those 2 days. His driving was extremely good.  And of course he knew Taipei very well as he has been in the tourism business for quite sometime. His English is not good but if you have a ready itinerary, just google translate the place. I highly recommend Mr.Chen especially for families (he drives an 8 seater Mercedez Benz) and will definitely get his services when we go back!
*Note: The driver does not provide car and booster seats so bring your own
What to Do?
Here is our 4D3N itinerary in Taipei with Kids in November.
Day 1: Taipei Children's Amusement Park – Taipei 101
Taipei Children's Amusement Park
We arrived at the hotel from airport around 4pm. Taipei Children's Amusement Park closes at 5pm so we did not push through with this plan. It is a carnival place filled with rides and games for kids. Click for more info on Taipei Children's Amusement Park .
Taipei 101
We went direct to Taipei 101. In November, the sunsets at around 5pm. So by the time we get to Taipei 101, it was dark. We walked around the building and took some photos.
TIP: If it is your first time to visit Taipei 101, there is an observatory at 89th/91st floor. You will be able to see beautiful city view from one of the tallest towers in the world. Ticket is required to get up to the observatory (NT$600 for adults and children under 115cm enter for free).
Day 2: Beitou – Tamsui – Yehliu – Yangmingshan
Beitou
We had a quick look at the Hell Valley. There were some rain showers so it took us few minutes to take a good photo. There are also nearby Beitou hot springs for those adventurous souls. Hot springs are perfect for rainy days.
Tamsui
Next we headed to Tamsui. Must see in Tamsui are the  Tamsui Old Street, Tamsui Fisherman's Wharf and Tamsui Lovers' Bridge.
And of course, the mandatory photo at Tamsui Lovers' Bridge.
Note: One can ride a ferry boat from Tamsui to Tamsui Fisherman's Wharf. We did not do this as it is rainy and the waves aren't ideal for kids. So we opted to drive to Fisherman's Wharf.
Yehliu
There are 2 tourist spots in Yehliu. Yehliu Geopark is to see breathtaking rock formations or Yehliu Ocean World for dolphin show. Most tourists go for Yehliu Geopark as it is unique in Taipei.
Yangmingshan
We decided last minute to check out Yangmingshan's Macao hot spring located within Yangmingshan National Park . According to Mr.Chen (our hired driver), the Yangmingshan's Macao hot spring is one of the best in Taipei if not the whole Taiwan. The water used are authentic compared to the ones below the mountain.
The public hot spring pools here are very traditional. No swimwear is allowed. So everyone should be naked. But not to worry, there is separate area for men and women.
Day 3: Pingxi – Shifen – Jiufen – Shilin Night Market
Pingxi
Bamboo flutes for writing names/wishes. Very similar to those heart locks in Paris and Seoul.
There are many lantern souvenir shops at Pingxi as well as Shifen. Don't forget to buy one as it is much cheaper here compared to downtown.
Shifen
We needed to cross this wiggly bridge and climbed some slippery stairs to get to Shifen Old Street by foot.
It was bit gloomy on the day we went to Shifen but we still managed to fly the lantern. The kids enjoyed writing their 'wishes' on the lantern.
Not to be missed is Shifen's Waterfall. It is not easy to get to the top to see the waterfall especially on a rainy day.
On our way to Jiufen, we stopped by to take some photos of the Golden Waterfalls.
Jiufen
Next we headed to Jiufen Old Street for some yummy street food. This is the place where you get a fantastic view of Jiufen at night as well. They say Jiufen is like the Santorini of Taiwan.
Shilin Night Market
After a long day, all I wanted to was to lie down and rest. But since we only had 1 night left, we decided to continue with the plan to visit Shilin Night Market to buy some Taipei souvenirs.
Aside from their famous street food and souvenirs, I also loved the local made Taiwanese bags. There are different brands so don't get confused!
In the middle is where you can find 'Easy Cool' shop which sells multiple brands of waterproof cute bags and pouches. Next to it, at the corner is where you can find the Uma Hana bags. Uma Hana bags seem to be more authentic than the others.
Day 4: Taipei Zoo – Maokong Gondola
Taipei Zoo
We can't resist not to Taipei Zoo with the kids. I have had good memories of the Zoo on our last visit 6 years ago. NT$60 for adults (less than SG$3!) and free for preschool kids!
We shortened our visit to the Zoo so we can have time to ride the Maokong Gondola in the afternoon.
TIP: Please use your Easy card to tap in for Taipei Zoo if you are planning to visit Maokong Gondola after. You will get NT$20 discount on your gondola trip.
Maokong Gondola
There are about 5-6 regular cabins for every crystal cabin. Crystal cabins have glass panels on the cabin floor. We wanted to try the crystal cabin and chose to wait.  It took approximately about 20-30 minutes to get our turn on the crystal cabin.
I think the crystal cabin is worth the wait if your kids aren't afraid of heights. My eldest had a grand time through out the ride.
Below are some scenic views while riding the Gondola. One can see the Taipei 101 Tower amongst the mountains backdrop- a breathtaking view!
TIP: Skip the Gondola ride when going back to the station. Choose the bus option instead. You will see some scenic views that you won't see whilst riding the Gondola. 
What and Where to Eat?
Taipei is food heaven especially for fans of Asian cuisine. Here are some food places that we enjoyed in Taipei with kids.
Taipei 101:
We went to the foodcourt at basement. There were many types of cuisines available and I must say you will be spoilt with choices. We ordered some hot udon from Tamoya Udon – perfect for rainy weather.

We sat next to a table having some prata and curry chicken. Who got envious?
Tamsui Old Street
Whilst walking along Tamsui old street, we stumbled this humble eatery – Jia Chi Wan. Food is quick to be served for hungry tummies.
Yangmingshan Macao Hot Spring
We had dinner when we went up to the Macao Hot Spring in Yangmingshan. The native chicken soup is a must try! The littles one loved their noodle soup. Warning though: Menu is all written in Chinese!
Shifen eatery
Shifen is popular place to fly the lanterns but there is few choices for food. We were hungry and 'settled' for this eatery. It wasn't bad at all! There was a long queue after few minutes that we were there. I think we got lucky!
The beef noodles soup is a yummy. It costs NT$600 for a bowl. Very cheap!

A-mei Teahouse at Jiufen
This is a popular teahouse in Jiufen – A-mei Teahouse. We initially planned to go there but it was full house!! The kids were hungry so we did not want to wait and opted for a teahouse opposite it.
The tofu is nice plus the salted egg coated mushrooms! The view outside was beautiful. Our table was at 4th floor (or maybe 3rd).
Taoyuan International Airport Food court
The foodcourt is located at the Basement in the Departure area. We loved the Japanese Ramen which we ate when we arrived at Taipei. We went to order the same food during our departure back to Singapore. Price of 1 big bowl is about NT$ 1500-1800.
We also ordered some juice after the meal. Check out the juice bear store near the entrance.

Thanks for reading! Hope you get some inspirations for your next trip in Taipei with kids!
---
---